Taking over the station in Winnipeg
---
Winnipeg MB, 9:00PM, Thursday

The station in Winnipeg is, fittingly, very close the Forks of the Red and Assiniboine Rivers. This is an historic gathering ground whose history stretches back millennia. Here trade and friendship between Aboriginal and European peoples formed the roots of the Métis nation, recognized (after considerable struggle) in Canada's Constitution as a Canadian Indigenous people.  The opening of the ongoing Truth and Reconciliation Commission took place here, and The Forks continues its old legacy of a meeting place between Indigenous peoples and newcomers.
Somehow the wily local planners on the three KAIROS groups in the Winnipeg area got permission to hold their welcome/ send off in the Rotunda of the train station.  On arrival at the platform, elders Minnie and Bert and their Secwepemc banners were drummed in.
We found 35 people standing with banners in a circle, giving us a chance to admire the unique artwork and message of each one.  Aboriginal and non-Aboriginal, Lutheran, Anglican, United and more—all had taken the time to come down and share in this send off ceremony.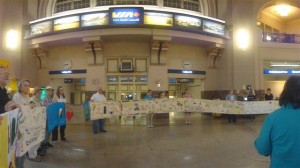 The group had been offering prayers and songs as they waited through the half hour delay. They launched into a welcome and then invited Minnie and Bert to speak.  Bert had prepared a song and shared this with us. He and Minnie spoke to the centrality of land, and of the Declaration's role in pressing us to honour the land. "Without the land, we are not people. She does not need us—we need her. Never forget this. And as we stand here today, remember also that we are all one people. Put aside the divisions we've been taught."
After the send off, we went for a walk—an exciting thing after a couple of days spent threading our way up and down a half-kilometre–long train. We went to say hello to a statue of Gandhi near the future site of the Human Rights Museum, and then walked over to greet the overflowing Red River.
Audrey, Connor, Paul, Melanie, Pat, Fletcher, Ted, Helen, Elle and many others whose names are unfortunately escaping me this late at night, thank you for this time of celebration and all the care put into it.
A half hour after we boarded, a staff member from the VIA that had just joined this train managed to find Bert. He had been handed a hand-stitched banner from the Winnipeg locals of the Canadian Union of Postal Workers that honours missing and murdered Indigenous women and calls for justice. Sister Trish of CUPW was to have been with us but she drew picket line duty. Somehow this beautiful artwork wended its way through the station to reach our car. CUPW and its members have been very supportive of this entire joint action, taking the word to a number of regional conventions despite knowing that a difficult strike was looming.
Thank you, Winnipeg, for a wonderful end to a long, full day.
Pulling out of the station near midnight, we head across the easternmost edge of the Prairies and enter the ancient rock of the Canadian Shield and the beginnings of Oji-Cree and Anishnaabe territories.  Roll on, Sioux Lookout!