Support the OFP in Colombia establish a community radio station
---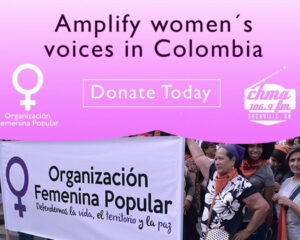 The Organización Femenina Popular (OFP), one of KAIROS' partners in the Women Courage: Women, Peace, and Security program, is raising funds to establish their community radio station, La Mohana FM. The OFP was awarded the radio licence in December 2019 and must now secure the funds to procure the necessary technical equipment to set up the station.
For over 48 years, the OFP has served women—survivors of gender-based violence and conflict—in the Magdalena Medio region of Colombia. The community radio station will contribute to the OFP's peacebuilding efforts by empowering women, youth, and children as well as ensuring that their messages of peace and gender justice reach a broad audience.
Support the OFP and women peacebuilders in Colombia establish a community radio station. Visit the OFP's Vaki crowdfunding page to donate directly.