Standing with partners on the International Day of Peace
---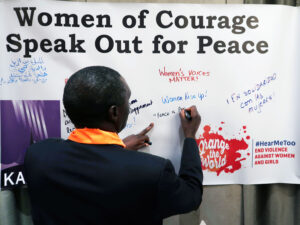 The United Nations International Day of Peace (IPD), celebrated on September 21, is devoted to strengthening the ideals of peace, both within and among all nations and peoples. The 2021 theme is "recovering better for an equitable and sustainable world".
The International Day of Peace is an opportunity for us to recognize and amplify the work that our partners are doing every single day of the year and raise their voices and advocacy concerns with Canadians and the Canadian government.
This year, KAIROS has received a powerful ecumenical call from the South Sudan Council of Churches (SSCC), a KAIROS partner, and the Ecumenical Network on South Sudan (ENSS), an international ecumenical network of faith-based organizations and churches, of which KAIROS is a member, for just peace in South Sudan.
This year's observance of IPD is particularly pertinent to South Sudan, as 2021 also marks 10 years of independence as a nation. A decade later, the country is still grappling with instability, a deteriorating humanitarian crisis and a fragile peace deal. For ordinary civilians, much of the past decade has been marked by violent conflict and on-going human rights violations, including forced displacement, thousands of internally displaced persons and millions of refugees.
KAIROS Women of Courage: Women, Peace and Security program also supports and amplifies the efforts of our other international partners in the Democratic Republic of the Congo (DRC), Colombia and the West Bank. This includes calling for equitable recovery from the COVID-19 pandemic that remains unattainable to underprivileged and marginalize groups, particularly those in situations of conflict.
In the DRC, much of the international community's pledges to support political and diplomatic efforts to end the decades-long brutal conflict and large-scale plunder of natural resources have not materialized, and few steps have been taken to abide by repeated demands for accountability for war crimes and crimes against humanity.
This year we have also received a IPD statement from KAIROS partner Héritiers de la Justice in the DRC – Dreaming about a World that is more Equitable and Sustainable. Renewing its appeal for peace, Héritiers de la Justice calls on the DRC Government to honour the United Nations Security Council's call for cooperation with the International Criminal Tribunal on the DRC to investigate and try alleged perpetrators of the crimes documented in the Mapping Report, as well as other human rights violations under international humanitarian law, that continue to occur. "The commemoration of the 2021 International Day for Peace should inspire a stronger commitment from the public authorities and citizens to work tirelessly for the re-foundation of the State", Gerald Kwigwasa, Héritiers de la Justice Executive Director.
We invite you to celebrate and support the crucial peacebuilding work of our partners including SSCC and Héritiers de la Justice with a designated donation.