Spirited Reflection: Join the Passion of the Lord
---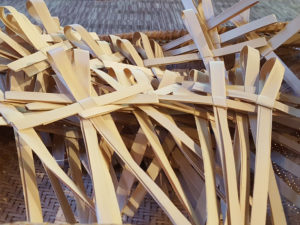 Scripture Matthew 26:14-27:54
Growing up I remember Palm Sunday with the sermons focused on those of us who would cheer for Jesus, and who were soon to betray him. We waived our palms in some services and more commonly, in Protestant Newfoundland in the 1980's, received a palm cross in our bulletin which I dutifully gave to my grandmother, or we pressed into bibles and hymn books.   
When I went to university, largely because of the vibrant social justice community gathered around the Social Action Commission or the Archdiocese of St. John's, and then because that's where my friends were, I started worshiping in the wonderful, inclusive community at St. John's College at Memorial University. The first Passion service I ever went to there, I can still remember with the acolytes (great big university students – male and female) going around the room to the readers as the story unfolded. Mass with incense and bells. The drama of the moment made the scripture come alive to me. I think I can still smell the incense.
This year will, for many of us, be unusual 
We will not make our ways to our little prairie churches, to our grand city cathedrals, to our suburban 1960's build churches, or even to our tasteful and plain meeting rooms.  We will not line the roads with our coats touching shoulders with our neighbours waiving Hosanna.  We will stay in the shadows, gathering only with our immediate families for those of us who are not altogether alone.  Some of our most beloved KAIROS community, will be alone in rooms in care homes, without family or clerical visitors.  We will be more like the disciples as they hurry to the shadows, standing six feet back from servant girls, lost in our own thoughts and sometimes fears.  
All year long, year after year, decade after decade KAIROS sees into the passion of Christ through our partners who travel alone, often feeling unsupported, with dangers abounding around them. Whether Indigenous Canadians defending their land, who are not even being noticed by the media this weekend, or brave souls in the Philippines speaking against the injustices occasioned by Canadian mining practices abroad, or women working on dispute resolution under the Occupation near the wall at Bethlehem, our work gives us a daily opportunity to see through the lens of that passion for which the Lord stretched out his arms.
This year, us, who live in relative affluence, with state sponsored health care, people who can consider waiting in line for a coffee and being bumped by someone who is too focused on their phone a ridiculous intrusion, we get a taste of some of the feelings that accompany those living closer to Christ's passion.  It's not very nice.  But His arms remain stretched out for us, and he calls us to offer our love in that same way.  And if we do, whether social distancing or not, no one will ever be alone.   
---
Desmond Jagger-Parsons (Reverend) is a United Church minister, working as a lawyer in Gander, Newfoundland and Labrador. He has also served as the United Church of Canada's elected representative to and as Chair of the KAIROS Board of Directors and member of the Steering Committee (formerly Board of Directors).