Spirited Reflection: Holding close to our hearts
---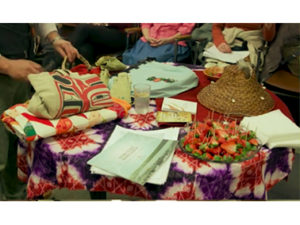 In this time of isolation, staying behind doors and apart from one another, questions on the meaning and power of prayer may arise. 
How can I offer support to those far away? Is there a way to close the gap? 
As a chaplain to people that are incarcerated, I take the power of prayer very seriously. In my home province of Ontario alone there are over 7,500 people incarcerated at this moment. Most jails are now on "lockdown" as COVID-19 has entered behind otherwise impenetrable walls. Lockdown means they are not able to leave their average bathroom sized cell, that they share with another person. They are not able to make phone calls, shower, use a private toilet, attend programs, speak to chaplains or service providers, exercise, or feel fresh air; their windows are frosted to obscure any view or sensation from the outside.  
In this time, as I worry about the vulnerability of Prisoners and Migrants who are crowded in dangerous detention centres, I am called back to the spiritual solidarity of prayer. As people of faith and conscience we raise our voices and collective energies to advocate for prioritization of the health and wellbeing of all who have been made increasingly vulnerable by this pandemic and public health crisis. We are people of both action and contemplation.  
The forces that bind, oppress, and cultivate hatred are physical and spiritual forces. Prisoners living in torturously isolated conditions have taught me that no matter what can be taken away from a person, there is still a spark inside each of us that cannot be contained, but is connected to the eternal Spirit.
To pray behind walls is to acknowledge that all walls are human made and are not absolute.
To pray behind iron bars is to acknowledge the presence of Divine Creativity, who never abandons Her children.
To pray from a place of isolation is to commune with the unseen ones, to call upon the presence of our ancestors and other angels to join their voices with ours.
To pray beyond boundaries is to participate in an act of solidarity- to join our energies and intentions with others beyond space. Holy Scripture teaches us that the Spirit cries and groans within us- we pray in the presence of God. 
Elders and knowledge keepers who are imprisoned, that I am privileged to learn from, have taught me the importance of prayer. When we raise our hearts to pray we are participating in the dialogue and movement of creation.  
KAIROS Indigenous elder gkisedtanamoogk and I had many conversations this winter about the nature of violence and the importance of prayer in combatting the seemingly endless cycles of harm. These conversations were sparked in October 2019, when the KAIROS Steering Committee decided to hold a private year of prayer together, to honour the gravity of the recent release of Reclaiming Power and Place (the report of the National Inquiry on Missing and Murdered Indigenous Women, Girls, and Queer peoples) and the National Memorial of children who did not come home from Indian Residential School (IRS). The Steering Committee did not want these two significant moments to pass us by- we felt the urgency of keeping these realities close to our hearts. We decided to commit, ceremonially and politically, to keeping the crisis of violence against Indigenous peoples and the legacy of IRS close to our hearts by praying a prayer together each Wednesday. gkisedtanamoogk taught me through this process that the energies of our hearts are more powerful than we can imagine. In this spirit, I offer you the prayer that came out of these conversations, which the Steering Committee is praying every Wednesday. 
May all that is tender and holy in this world cradle you and all you hold dear during these difficult and fragile days of isolation: in prayer our hearts become one. 
Holding Close to our Hearts Prayer 

We hold close to our hearts today 

Those whose absence leaves a gap too great for words. 

We hold to our hearts and grieve those beautiful lives cut short by colonial violence. 

For the thousands of children who did not return home from residential school 

For the many Indigenous women, girls, and LGBTQ2S+ people who are missing, or taken from us 

May love surround them. 

May love circle those who miss them from their circles of love, family, and community. 

May love empower and encourage us to act with compassion, understanding, and peace. 

Peace and dignity to all beings, of earth, sky, and sea.  

We lament the violence at every level of Canadian society. May we all listen and follow the leadership of the families in this time of reckoning and calls for justice.

May the chains of violence in hearts and communities be healed at their deepest roots. 

We hold close to our hearts the tears of so many, and the dead who lay in the earth.  

We commit ourselves to praying, listening, being in relationship, speaking, and acting for the healing of the generations past and generations to come.  

Creator of life – unleash the healing of your love in this land. 

In the spirit of the wounded Creator-with-us, 

Amen. 
---
Rev'd Leigh Kern, member of the KAIROS Steering Committee, is an Anglican priest at Toronto Urban Native Ministry and the Anglican Diocese of Toronto.