Connect with Creation - Season of Creation Earth Examen #KAIROSClimateAction
---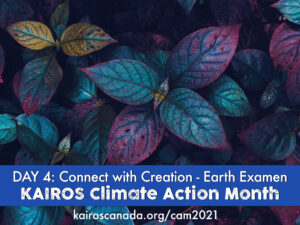 Every Saturday during Climate Action Month, we invite you to take time to connect with Creation. We'll offer some resources to guide these moments of connection, but you are welcome to connect in any way that brings you joy, rest and renewal. Share your moment connecting with Creation on social media using #KAIROSClimateAction. 
Creating space for connection, nurtures our relationship with the Earth reminding us of the interconnectedness of all living things.  These moments of contemplation provide space for learning and seeing with new eyes, for healing if we are experiencing ecological grief or anxiety, and for nurturing our love for Creation and thus our willingness to care for it. 
For this first Saturday, we invite you to engage your local ecology through the Season of Creation's Earth Examen. "An examen is a way of beholding an object or being in prayerful wonder. Through questions, you are invited to reflect on God's presence and the goodness of that which you behold. During this Season of Creation, consider contemplating a part of your local ecology. This is an exercise that you can choose to do alone, or with a group. Pick a natural or agricultural place to contemplate. A forest. A river. A city street with a natural area. An urban park. A farmer's field. A hilltop. Find a comfortable place to rest in or near this place. Enter into prayer in whatever way is natural to you. Invite Holy Wisdom to open the eyes of your heart." When you are ready, reflect on the questions in the Earth Examen resource. 
"I believe that encounter, where our 'roots' join, will lead to startling discoveries. We need to stay in that deep space to hear what one can never hear in the hustle and bustle of a world that primarily sees trees, plants, insects, animals, minerals and precious metals as mere commodities for the use of humans." 

Nancy Sylvester