Reflection on Stories of Courage, Stories of Change
---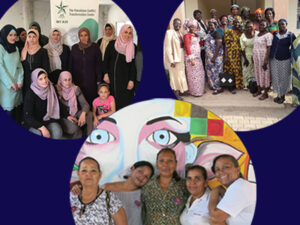 This morning I was honoured to be witness to the KAIROS Women of Courage: Women, Peace, and Security gathering. In this gathering, women from South Sudan, Colombia, The Democratic Republic of Congo, and Palestine shared their experience of gender-based violence and community resilience. In partnership with KAIROS and local grassroots community organizations, these women used human rights knowledge and skills training as a steppingstone, enhancing their capacity to resist inequities and build bridges in their communities.
One of many threads that linked these women's experiences was the exclusion of their voices in social and political life. They were barred from decision making and dismissed as keepers of knowledge. However, through workshops and building a network of women they gained the confidence to speak their truth despite the many risks to themselves. For the young women and girls affected across the globe, they are taking the courageous steps to resist oppression in their communities. They are leaders, organizing unity amongst women and political bodies, openly talking about the gender-based violence being perpetrated against women, educating their community on COVID-19, and advocating for economic and environmental solutions.
Their stories inspire critical hope in these precarious times when violence against women and gender-based inequity is rising. They are the seeds planted which will bring about a forest of transformative change within the entire community. It is from them that we can continue to learn how to lead with courage.
Jalyn Smith, MSW Student at the University of Toronto