Philippines partners' visit, August 23- September 3, 2019
---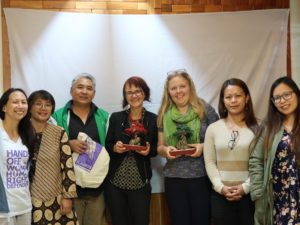 At the partners' roundtable on the first day of our visit to the Philippines, Bishop Rex Reyes challenged us to be "credible, consistent and courageous" in our solidarity and advocacy work. This became a theme throughout our trip as we were being asked to reciprocate the consistent, credible and courageous work of our partners.
We found this in our meetings with partners and the communities that they are accompanying. It was palpable in our meeting with human rights groups in the Cordillera who are working to free political prisoners and dismiss trumped up charges against human rights defenders. It was strongly present in the Indigenous organizations, including the Cordillera Peoples Alliance and Innabuyog, the women's network, who are accompanying Indigenous communities, particularly women, in the assertion of their rights and struggle for their ancestral land, particularly land that is threatened by resource extraction. We felt it in the family and support network of Brandon Lee, an American citizen and journalist who has been working with Indigenous communities in the Cordillera region for 8 years and recently survived an assassination attempt.
---
Hands off Women Human Rights Defenders – a campaign of human rights groups in the Cordillera.

Mene (in this picture):
Thank you for coming and giving us this opportunity to share. If you are going to stop supporting us just say so so I can start crying. All I want is to go back to Pantaron. I have lived in my community all my life, I have never met an armed rebel, but I am accused of being one. I am strong but when I see the military with guns, I am afraid. We left because we were afraid; yet we are accused of surrendering.

At the Lumad evacuation centre in the compound of the United Church of Christ of the Philippines. The camp has existed since 2015 and is now the home of 100 families and about 400 people.

Mindanao Inter-Faith Service Institute (MISFI) staff welcome KAIROS.

How has being a part of the women's network of Sabokahan changed you?
Mene (centre) says, "I feel like we have unity, companionship. I am not alone."

Meeting with human rights and Indigenous partners in the Cordillera including the Cordillera Peoples Alliance (CPA) Cordillera Human Rights Association, Innbuyog (an Indigenous women's network) and RECCORD, the local ecumenical group. We are holding our freedom bonsai trees that we had just received the husband of Rachel Mariano as part of a campaign for her freedom and support for womethe freedom and dismissal of trumped up charges against all human rights defenders.
Rachel Mariano was finally released the day we returned to Canada -a victory for justice and human rights in the Philippines
We found this courage and defiant hope in the students and staff of Indigenous and inter-faith school run by the Mindanao Inter-Faith Service Institute (MISFI). We saw incredible courage, empathy and solidarity in the mothers and families of victims of the drug war who have organized through Rise Up and are seeking justice at the same time as reaching out and providing psychosocial support to other victims. On our last day in the Philippines we met with the Canadian Embassy. The messages we shared from partners were consistent, credible, courageous and extremely clear:
• Canada is to be lauded for its support for the resolution at the UN Human Rights Council (the Iceland resolution) for a special inquiry into the human rights situation in the Philippines. Now Canada must continue to actively press for this independent investigation and report to the UN Office of the High Commission on Human Rights and support Filipino human rights organizations and civil society to participate in this process.
• Canada must continue to raise concerns about the human rights crisis and ongoing impunity in the Philippines, including calling for the release of political prisoners and the dismissal of trumped up charges against human rights defenders. Canada now has strengthened mechanisms to do this through the new Voices at Risk Guidelines.
• Canada is urged to do everything in its power to support peace and an end to Marshall law in Mindanao. Militarization of Indigenous communities is resulting in mass displacement and a violation of the most basic rights to land and livelihood, an impact that is felt most acutely by Indigenous women and children.
Back in Canada, the message and challenge of Bishop Rex Reyes remain with us. It is now our responsibility to continue to be consistent, credible and courageous in our support for partners in the Philippines and in our advocacy here in Canada.
---
Rachel Warden is the Partnerships Manager and Kirsten Van Houten works as the Global Partnerships Coordinator at KAIROS.