Orange Shirt Day is about changing the legacy
---
September 30 is Orange Shirt Day – a day to remember students who attended Indian Residential Schools in Canada. The day is inspired by Phyllis Webstad's experience. On her first day at residential school in 1973, Phyllis was stripped of her new orange shirt, a shirt that had brought her a sense of affirmation and dignity. Now each year on September 30th we wear orange to remember that, as Phyllis says, "every child matters." This is a day, or a week, to share the stories of all residential school students, and help change the legacy of those schools so that former students and their families not only survive but thrive.
Please wear orange on September 30.  
If you are active on social media – especially if you won't be seeing many people on the 30th – consider adding a frame to your profile photo that says, "Every Child Matters."
And, spend some time leading up to that day reading, listening to, and sharing survivors' voices. Below are a few ideas to get you started.
Video Stories
Watch and listen to some residential school students' stories. Here are just three examples: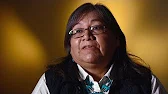 Residential school survivor: 'I grew up hating the colour of my skin' (3:54 min)
Louise Hall,  Pine Creek Residential School Camperville, Manitoba 
---
"The Residential School System took away my language, my culture and my identity" (3:47 min)  
Michael Cheena, Bishop Horden Hall Residential School, Moose Factory, Ontario and Shingwauk Residential School, Sault Ste. Marie, Ontario 
---
Residential school survivor on her role as a teacher, principal and grandmother (6:07 min)  
Nancy Pennier, Merritt, BC
---
The Legacy of Hope Foundation, an Indigenous organization that educates about the Residential School System, has a larger collection of stories from a wider spectrum of schools. Each are about half an hour.
The KAIROS Steering Committee Holds a Year of Prayer
On March 11, 2020, the KAIROS Steering Committee began a Year of Prayer: Holding Close to our Hearts for the persons, families and communities connected to The Final Report of the National Inquiry into Missing and Murdered Indigenous Women and Girls, and the National Student Memorial Register of children who didn't come home from Indian Residential Schools.
This initiative is meant to honour, pray, listen with open hearts, and discern how we might continue to respond to the Final Report's Calls for Justice and reconciliation. The Steering Committee members pray weekly at noon on Wednesdays, holding the affected families close to their hearts. If you are in leadership at a church, you are invited to use this prayer in your Sunday worship on September 27 and everyone is invited to circulate it in advance of Wednesday, September 30th.
We hold close to our hearts today 
Those whose absence leaves a gap too great for words. 
We hold to our hearts and grieve those beautiful lives cut short by colonial violence. 
For the thousands of children who did not return home from residential school 
For the many Indigenous women, girls, and LGBTQ2S+ people who are missing, or taken from us 
May love surround them. 
May love circle those who miss them from their circle of love, family and community. 
May love empower and encourage us to act with compassion, understanding, peace. 
Peace and dignity to all beings, of earth, sky, and sea. 
We lament the violence at every level of Canadian society. May we all listen, implement, and follow the leadership of the families in this time of reckoning and calls for justice. 
We hold close to our hearts the tears of so many, and the dead who lay in the earth. 
We commit ourselves to praying, listening, being in relationship, speaking, and acting for the healing of the generations past and generations to come. 
Creator of life- unleash the healing of your love in this land. 
In the spirit of the wounded God-with-us, 
Amen.
Prayer written by Leigh Kern, Coordinator of Indigenous Ministries and Reconciliation Animator, Diocese of Toronto, The Anglican Church of Canada, and KAIROS Steering Committee member.