One big banner in Saskatoon
---
Saskatoon SK, 9:00AM Thursday
We stepped off the train in Saskatoon to bright skies and clear Prairie winds. Down the platform, taking up most of its width, came ten banners strung together and carried by 15 waving people.
We added two Secwepemc banners to the line and greeted one another as we lined up alongside the train.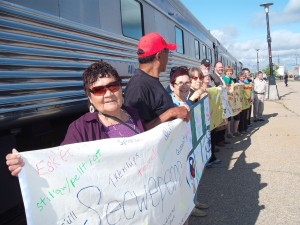 Everyone had gathered independently, not knowing who else might be coming. Together we represented the Cree nation, Truth and Reconciliation Commission local organizing, United Church, Mennonite, Anglican, St Andrew's College, KAIROS, and more.
We had a brief time to share our stories. Together this group represented a lot of right relationships work in Saskatoon, a community that is working its way through both social struggles and good steps toward a good future for the city's large Aboriginal and non-Aboriginal populations.  Affordable housing, access to affordable local food, and intercultural dialogue are all pressing local matters.
Thanks for the witness of these banners, Saskatoon, and your own work for right relations. We will try to represent you well!