On the eve of International Day of Peace, a strong statement for peace in Colombia
---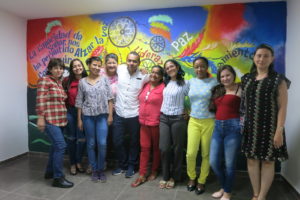 Over forty non-governmental, labour and faith-based groups from across Canada, including KAIROS and a number of our members, have signed a joint statement denouncing the escalating human rights crisis and urging the Canadian Government to take strong action to support a continuation of the peace process in Colombia.
In 2016, a historic peace agreement was reached between the Government of Colombia and the Armed Revolutionary Forces of Colombia (FARC), bringing great hope of ending the 52 years of armed conflict. This peace process has been systematically undermined by the current Colombian government and recently was dealt a serious blow when several commanders, now dissidents of the demobilized FARC, announced a return to arms.
As Canadian organizations, we reiterate our solidarity with the people of Colombia and their desire to build a country where peace and justice prevail, and where deeply entrenched political, economic and social inequalities are addressed. We share their conviction that the peace agreement is an important step in this process and that it must be vigorously defended.
The statement is also a strong expression of solidarity and support for our partners in Colombia who, for decades now, have been working with the most marginalized and affected communities, to construct sustainable and just peace in Colombia. These very people who are building peace and defending human rights, including Indigenous peoples, women and Afro-Colombians, have become targets in a growing wave of violence against social movements and human rights leaders.
"For 47 years the Organización Femenina Popular (OFP), our partner in Colombia, has been working with grassroots women to build inclusive and equitable peace. In July, we witnessed the inauguration of the OFP's Museum of Memory and Human Rights of Women, a tribute to this experience and history. The OFP has not given up. They continue to risk their lives daily to build peace. We must be vocal in our support for peace in Colombia and urge the Canadian government to support effective implementation of these peace accords," said Rachel Warden partnership manager at KAIROS.
As the world prepares to celebrate the International Day of Peace, it is urgent for the Canadian government to use all its political and economic channels to support peacebuilding initiatives in Colombia and ensure that Canadian trade and investment interests in Colombia are in no way undermining the peace process.
The full statement is available in English, Español and Français.