Native Women's Association of Canada (NWAC) report documents the links between residential schools and Indigenous women in custody
---
NWAC Report
Gender Matters: Building Strength in Reconciliation
KAIROS Board Member Rev. Andrew Johnston joined Native Women's Association of Canada President President Jeannette Corbiere Lavell at a press conference in Ottawa yesterday to launch Gender Matters: Building Strength in Reconciliation, a report which documents the links between the inter-generational trauma and impact of residential schools and Indigenous women and girls in prisons.
"Residential schools and subsequent traumas have made the incarceration problem worse," said President Lavell. "We need to ensure greater safety for women & girls. We are trying to facilitate a process where the women can speak to their experience and help us to learn how to transform this legacy."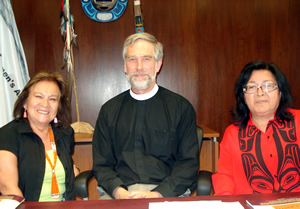 The report draws from cross-country dialogues with over 300 participants, including First Nations, Métis and Inuit women and girls in custody, as well as justice sector and community workers.
Rev. Johnston, the pastor at St. Andrew's Presbyterian Church in Ottawa, emphasized how past policies and practices continue to impact peoples' lives, and the importance of working together for healing and reconciliation. "This is about us," he continued. "It's not just about Aboriginal women and girls but about all of us. Reconciliation is about respect.  We have to work together. We have to listen and learn and respond to one another, and that's what KAIROS is doing."
The report identifies a number of recommendations to improve conditions for criminalized Indigenous women and girls, their families and communities, including increased support for alternatives to incarceration including Indigenous and community-based problem solving bodies and gender specific diversion programs; increased support for community led healing and cultural revitalization programs; and widespread education and awareness building of the residential school system and its lasting impact on Indigenous peoples.
The report is now available on line at www.nwac.ca/gender-matters. Copies are also available from KAIROS.
Contact Katy Quinn at kquinn@kairoscanada.org for more information.