May 29: Mining Tailings Dam Collapses in Canada and Brazil: Who Cares?
---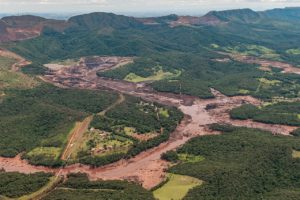 Join us Friday, May 29, 2020 at 2:00PM EDT for a webinar with Judith Marshall and Daniela Campolina. The webinar will focus on three major tailings dam breaches that have occurred in the Americas over the last decade. Together these disasters in Canada and Brazil have caused loss of almost 300 lives and enormous long-term damage to vital eco-systems. The breaches are best understood not as events but as processes, related to policies, actions and omissions in the years prior to the ruptures.  
The disasters have revealed mining companies and governments intent on business as usual, with little or no regard to the rights of workers, communities, and the environment. Brazilian and Canadian citizens are responding by inventing new ways to care for each other and care for the planet.
Judith Marshall spent the 1970s in Southern Africa liberation solidarity activities in Toronto and worked in literacy campaigns in Mozambique in the 1980s. In the 1990s, she embarked on a 20-year stint in the global affairs department of the Steelworkers Union. She has written many articles on mining, including recent comparative studies of mine tailings dam collapses in Canada and Brazil.
Daniela Campolina is a high school science teacher in Minas Gerais state in Brazil. She lives in a mining community located between the two biggest tailings dam collapses in the Americas, Mariana and Brumadinho. She is an activist in the Movement for Mountains and Waters of Minas Gerais (MovSAM). She is a PhD student at the Federal University of Minas Gerais doing research on the influence of mining in the education system.
For the Zoom link, please register online.
Facebook event page.
This webinar is one of a series of webinars with women land and water defenders that will take place during the month of June – Indigenous Women's month at KAIROS. More information will become available in the coming days. An updated list of upcoming events can be found here.
If you have not already, please sign the petition to hold Canada mining companies accountable and demand that Canada takes concrete measures to strengthen the rules of business and uphold human rights. After you have signed it challenge 5 friends to do the same.