Kaji' Ajpop Strengthens Indigenous Women's Rights in Guatemala
---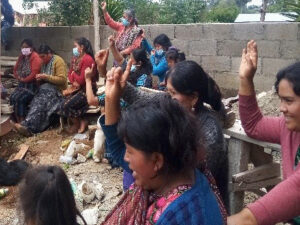 KAIROS has a long history of working with partners in Guatemala on Indigenous rights, environmental and land defense, and gender justice. In 2021, KAIROS began exploring a new partnership and supporting the work of Kaji' Ajpop, an association that promotes Indigenous rights through governance, environmental protection, and civic participation in Guatemala. Kaji' Ajpop was founded in 2019 and is led by Maya Kaqchikel Indigenous women. 
Kaji' Ajpop's project seeks to increase Indigenous women's participation in locally and nationally oriented community decision-making spaces. To meet their objective, Kaji' Ajpop developed and implemented a methodology to strengthen Indigenous women's capacity to identify, articulate, and advocate for their collective rights.  
Kaji' Ajpop held 12 local assemblies in and around Solola, Guatemala. In total, over 1,200 Maya Kaqchikel women participated in these meetings. At each assembly, a coordinating committee composed of 5-9 women leaders was created. All coordinating committees then gathered to receive further training and to prepare all the documentation required to become legally recognized entities.
The result: 12 new formalized women's committees led by 80 women leaders plus a youth committee made up of a mixed group of 25 young women and men advocating for Indigenous rights at the local level in the area of Solola, Guatemala. In addition, 46 women joined a national women's group after participating in the project activities; the women will ensure Indigenous women's rights are being incorporated into national policy proposals.
Kaji' Ajpop's leadership includes Natalia Atz Sunuc, a Maya Kaqchikel woman who was an Honorary Witness to the TRC in 2013, is a victim and survivor of Guatemala's armed conflict, and served as General Coordinator of CEIBA, a former KAIROS global partner.
Natalia Atz Sunuc will be one of the panelists at KAIROS' CSW66 virtual workshop, "Women peacebuilders build back with environmental and economic security." The workshop will take place on March 22, 2022, from 10:00am-12:00pm EDT.