#KAIROS20 memories from Organización Femenina Popular
---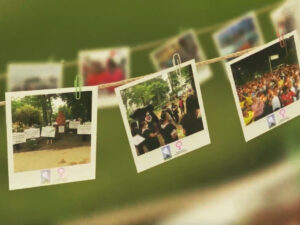 Organización Femenina Popular (OFP), in Colombia, is one of KAIROS' partners in the Women of Courage: Women, Peace and Security program.
KAIROS has a shared history with this group of fabulous women, since the beginning. They offer us this lovely collage of memories.
---
Excerpts from 20 years of KAIROS Annual Reports
KAIROS walks for peace with Colombian women: on July 25, 2002 over 30,000 women (three times the expected number) converge on Bogota calling for non-violent resistance to war, demilitarization of civilian life, and a negotiated solution to the armed conflict in Colombia. The KAIROS Global Partnerships Program supports the Popular Women's Organization (OFP) in its role as a coordinator of the mobilization.

KAIROS Annual Report 2002
In every meeting, committee presentation, letter or urgent action, we testified to the experience of people whose lives are at risk because of their human rights work. Partners such as Ana Teresa Rueda Lozada of the Organisación Femenina Popular (OFP) told us that our voices helped make their courageous ongoing work for human rights possible: "For the OFP the support of international NGOs like KAIROS is crucial to be able to do human rights work in our country and not be forced to leave or be killed."

KAIROS Annual Report 2004
Your continuous support throughout all these years has been a crucial factor in the development, in the existence of our work. The pressure you have exerted diplomatically, letters, faxes have had a profound influence in improving our situation. We would not have hope without the support of KAIROS. Thank you in all sincerity.

Lilia Solano, Colombian Human Rights Activist, KAIROS Annual Report 2005
Teresa Lopez, a member of the OFP, reads a poem as a testimony of resistance, creativity and life at the time of the International Tribunal Against Impunity in Bogota in November 2006.
KAIROS Annual Report 2006
In April, KAIROS participated as a judge in the International Tribunal on Forced Disappearance in Colombia. The Tribunal was part of a series of international events denouncing human rights violations and impunity by the Colombian state. In July, KAIROS representative Janet Sigurdson, a Cree from Peepeekisis First Nation, attended a subsequent Tribunal on Indigenous Rights.

KAIROS Annual Report 2008
We tried to bring attention to the fact that it is global partners who are the tragic victims of the [CIDA funding] cuts—groups such as Heirs of Justice with their planned legal clinic for women raped in Congo's brutal conflict, and members of the Women's Popular Organization in Colombia who lost funding for life-saving protection against rampant human rights abuses.

KAIROS Annual Report 2009
In 2010 KAIROS linked international human rights advocacy in priority countries such as Sudan, Colombia, Democratic Republic of Congo and the Philippines in an initiative entitled Women of Courage: a program of research, education and advocacy focusing on women human rights defenders in Canada and around the world. The program was launched in August 2010 when KAIROS led a delegation of six women, including three Canadian Indigenous women, a migrant justice advocate, a leader in the Quebec social movements and a partner from the Philippines, to Colombia. They visited communities facing militarization and daily violence and participated in the Women and Peoples' Summit of the Americas against Militarization. The Summit was co-sponsored by KAIROS partner the Organización Femenina Popular (Popular Women's Organization). The delegation enabled women who have experienced colonization, discrimination and violence, and who are working for healing and change in their communities, to share their powerful and profound stories.

KAIROS Annual Report 2010
Participants in the Regional Women's Courts for Justice, Territory and Peace in Cali, Colombia, November 27-28, 2012 (Photo credit: Dolly Sanchez)
KAIROS Annual Report 2012
Jill Harris, an elder and former chief of the Penelakut First Nation on Vancouver Island, joined Naty in the KAIROS delegation to Vancouver. She spoke of her experience with KAIROS and of her surprise at being asked to go to Colombia as part of a Women of Courage delegation: "How could I be a woman of courage?"

KAIROS Annual Report 2013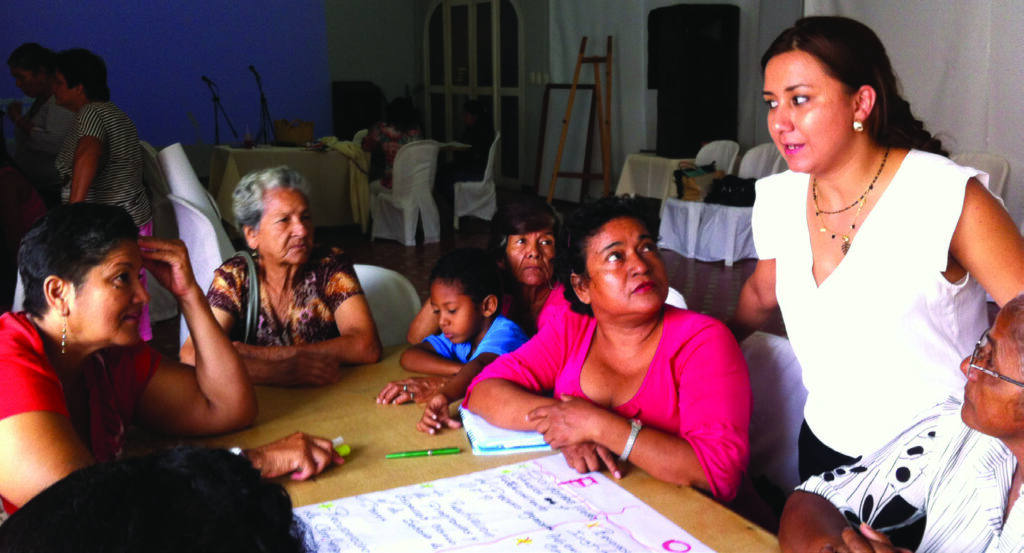 In November, KAIROS welcomed Isabel Polanco of Organización Femenina Popular from Colombia to Canada to participate along with representatives… in the NO MAS! END Violence Against Women NOW tour and part of the 16 Days of Activism against Gender-Based Violence global campaign. Isabel spoke about violence against Indigenous women, the root causes of this violence, and hopes for truth, justice and reparation, especially in the context of the newly signed peace accord in Colombia. Watch Video. Photo: Isabel Polanco and Jennifer Henry on Parliament Hill.
KAIROS Annual Report 2016
"What I liked the most [about the Action Ecologica Workshop Exchange in Ecuador] was learning about the methodologies used by other organizations working in resistance. These are similar strategies that provide opportunities for exchanges and collaboration."

Laura Serrano, Organización Femenina Popular (OFP), KAIROS Annual Report 2019