KAIROS urges Parliament to pass key human rights bills before time runs out
---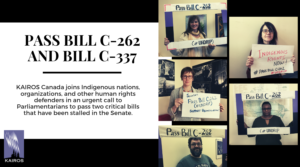 (Ottawa, ON) – KAIROS Canada joins Indigenous nations, organizations, and other human rights defenders in an urgent call to Parliamentarians to pass two critical bills that have been stalled in the Senate. In an Open Letter released on June 17, Indigenous peoples' organizations and other human rights groups, including KAIROS, call on the Government of Canada to do everything in its power to ensure that Bills C-262 and C-337 do not die on the Order Paper because of stalling tactics by a small group of senators.
Bill C-262 provides a framework for implementation of the UN Declaration on the Rights of Indigenous Peoples. Bill C-337 will ensure training for all judges concerning sexual violence.
The House of Commons passed a unanimous motion on April 10, calling on the Senate to pass both bills into law at the earliest opportunity. Despite this motion, and support from the majority of senators, a small number of senators are attempting to block passage of these bills through procedural delays and stalling tactics that overstep their role in Canada's Parliamentary system.
Bill C-262 has cleared the Committee review stage and now must pass third reading before the Senate rises on June 28. Additional stalling tactics are expected. If the two bills have not passed third reading by then, they will die on the order paper. KAIROS and its network have supported Bill C-262 from its inception in 2016, recognizing it as an important framework to implement the UN Declaration, which it has supported for years. As early as 2011KAIROS organized a march in Ottawa that involved linking together hundreds of banners from across Canada expressing support for the Declaration.
"KAIROS' network of engaged citizens have contacted their MPs and now senators through phone calls, letters, emails and social media urging support for Bill C-262," says Jennifer Henry, KAIROS' Executive Director. "At this moment in the journey toward reconciliation, far too much is at stake to let this bill die now."
The recent report of the National Inquiry into Missing and Murdered Indigenous Women and Girls reinforces the need for immediate changes in Canadian society to address both systemic sexism and racism, including in the criminal justice system.
Henry adds, "Bill C-337 offers a concrete and critical step forward in the direction of this urgent change."
Read the Open Letter. 
About KAIROS: Canadian Ecumenical Justice Initiatives
KAIROS is a faith-based social justice organization of ten Canadian churches and religious organizations. We focus on Indigenous rights, international human rights, and ecological and gender justice. We deliberate on issues of common concern, advocate for social change and join with people of faith and goodwill in action for social transformation. Learn more: www.kairoscanada.org.
---
Media Contact:
Cheryl McNamara, Media Coordinator
877-403-8933 x 246, 416-875-0097 (mobile), cmcnamara@kairoscanada.org