KAIROS Members respond to Hurricane Dorian
---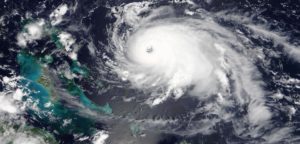 Hurricane Dorian, a powerful category 5 hurricane, landed in the Bahamas in early September 2019 destroying thousands of homes and leaving approximately 60,000 people without shelter.
Although KAIROS does not provide disaster relief, we encourage you to respond through the humanitarian relief efforts of our members:
· As the scale of the destruction unfolds, The United Church of Canada is accepting funds to help with relief and reconstruction efforts, working with global partners the Methodist Church in the Caribbean and the Americas (MCCA) and ACT Alliance (ACT). ACT's regional office in El Salvador is mobilizing a rapid assessment team in the Bahamas to assess humanitarian needs.
· In response to the immediate and urgent needs of those affected by Hurricane Dorian, PWRDF is receiving donations and sending financial support to Episcopal Relief and Development of the Episcopal Church of the United States.
· In the early days after the disaster and towards long-term recovery, World Renew Disaster Response Services and the Christian Reformed Church in North America (CRCNA) are asking for donations to help people recover from Hurricane Dorian.