KAIROS Group in Winnipeg pushes for residential school history lesson
---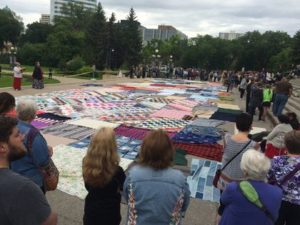 Originally posted in the Winnipeg Sun on June 4, 2016, by David Larkins.
More than 100 people rallied at the Legislature on the one-year anniversary of the release of the Truth and Reconciliation Commission report. (David Larkins/Winnipeg Sun/Postmedia Network)
---
More than 100 supporters rallied at the Legislature on Saturday in a quest to bring more attention to recommendations from the Truth and Reconciliation Commission on the one-year anniversary of the landmark report.
Specifically those who gathered on the front steps of Manitoba's provincial building were there to provide a history lesson on the residential school system and to lobby the government on the recommendation of the TRC that schools establish curriculum on the residential school history.
Saturday's gathering was one in a series of similar events across the country organized by KAIROS, a conglomerate of church organizations that rally for human rights and ecological issues.
The so-called blanket exercise gathered the supporters on a series of blankets quilted together in front of the Leg while speakers gave history lessons of Canada's First Nations.
"It's through education that everyone is going to learn about this history," KAIROS regional chairperson Carin Crowe said. "The purpose of it is to teach the history of Canada that we didn't learn in school. … It's kind of starting at the very beginning again, but if we understand one another we can work better together."
Crowe said she is hopeful Manitoba's new Progressive Conservative government is also a receptive one.
"As I have been involved in this blanket exercise, I've seen more and more people say 'I am understanding why there's so much angst out there,'" she said. "And then with that forgiveness on both sides."
Eileen Clarke, the minister responsible for indigenous relations, said she will be meeting next week with other provincial ministers to discuss the next steps in following the TRC report.
"We want the people to know that we're committed to walking the steps necessary to get them to a place where they feel they have been acknowledged and supported to the extent that's making a difference in their lives," Clarke said.