KAIROS condemns the killing of three Indigenous youth in the Philippines, and decries the loss of life
---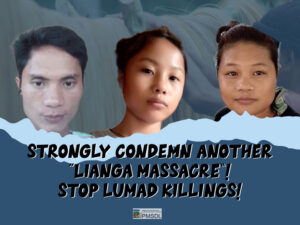 KAIROS joins partners, human rights organizations, churches and solidarity organizations from around the world in condemning the rape and murder of three Indigenous youth in Lianga town, Mindanao, Philippines, by the Philippines Army. As we call for justice and an end to this impunity, we grieve the loss of life.
The massacre occurred just one day after the International Criminal Court (ICC) opened an investigation on crimes against humanity by President Duterte and his regime.
In a statement by the International Coalition for Human Rights in the Philippines (ICHRP), a global network of human rights organizations, chairperson Peter Murphy condemns this attack.
"No amount of lies by the government can whitewash the criminal liability of Duterte and state forces in the rape and murder of these Indigenous farmers and this 12-year-old child. We are in shock at the wanton brutality exhibited by the soldiers of the regime. The sexual violence against children and state-orchestrated killings of Indigenous people rise to the level of crimes against humanity. The UN bodies should know, the world should know that Duterte's actions have led directly to the rape and murder of Filipinos, he's out for blood."

Peter Murphy, Chair, International Coalition for Human Rights in the Philippines
KAIROS also joins our partner, the Indigenous Peoples Movement for Self Determination and Liberation (IPMSDL), in condemning this massacre of Lumad peoples, in mourning the loss of life of three Indigenous youth, and in calling for justice. In a statement, IPMSDL writes:
This policy of killings by the Duterte regime underscores the long-standing spiralling rights violations towards Indigenous Peoples and Lumad that has long been condemned by the international community.
Read the full IPMSDL statement
We urge everyone to amplify the urgent and crucial call to hold the Duterte government, the Philippine military and state forces accountable for its murderous actions and policies with impunity, and support all efforts for an independent, international investigation. Lean more about Investigate PH.
We call all Indigenous groups and advocates, rights defenders, activists and the international community to lend their voice and call for justice for Angel, Willy, Lenie and all the victims before another life is lost.