KAIROS Climate Action Week calls for rapid phase out of fossil fuels
---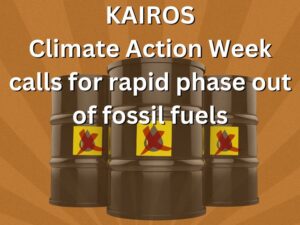 KAIROS Canada launches its second Climate Action Week, September 11-17, focused on keeping the oil in the soil and letting justice and peace flow
(Toronto – Treaty 13 with the Mississaugas of the Credit) – As Canada and the world battle and recover from fires and floods fueled by climate change, KAIROS' Climate Action Week, September 11-17, will focus on the root cause of the crisis: fossil fuels.
During the week, events, reflections and actions will be centred around the theme: Decolonizing Climate Action: Keep the Oil in the Soil and Let Justice and Peace Flow.
This is the second of three climate action weeks this year, which began in June.
"To limit global warming to 1.5°C, we know that we must keep 80 percent of existing oil and gas reserves in the ground and rapidly transition towards renewable energy," says Beth Lorimer, KAIROS' Ecological Justice Coordinator. "Climate justice demands a rapid reduction in greenhouse gas emissions from high emitters in the Global North. During Climate Action Week, we hope to galvanize Canadians into building support for the Fossil Fuel Non-Proliferation Treaty."
KAIROS will present two online events that week.
Climate Action Dialogues – Building Momentum for a Fossil Fuel Non-Proliferation Treaty will be held on September 12 from 7:00-8:30 p.m. EDT and will feature speakers from the treaty network. Register here
KAIROS Leadership Seminar – Fossil Fuel Non-Proliferation Treaty takes place on September 14 from noon to 1:00 p.m. EDT. It will feature the Reverend Canon Rachel Mash from Green Anglicans of the Anglican Church of Southern Africa who will share her experience in bringing a successful motion to endorse the treaty to the Anglican Consultative Council in February 2023. Register here
KAIROS' Climate Action Week in September falls during the Season of Creation, which runs from September 1 (World Day of Prayer for the Care of Creation) to October 4 (Feast of St. Francis of Assisi). This year's Season of Creation theme is Let Justice and Peace Flow, reminding us that "we are called to join the river of justice and peace, to take up climate and ecological justice, and to speak out with and for communities most impacted by climate injustice and the loss of biodiversity."
The next Climate Action Week will be held November 13-19 in the lead up to the United Nations Climate Change Conference (COP28) and co-sponsored by For the Love of Creation. The 2023 KAIROS Climate Weeks are unified by the Decolonizing Climate Action theme. The first KAIROS Climate Action Week ran from June 5-11, 2023.
Learn more: KAIROS Climate Action Week
About KAIROS: Canadian Ecumenical Justice Initiatives:
KAIROS is a social justice organization that includes ten Canadian churches and religious organizations. We are Indigenous, settlers and newcomers in Canada working with people of faith or conscience all over the world for ecological justice and human rights. We deliberate on issues of common concern, advocate for social change and join with people of faith and goodwill in action for social transformation. Learn more: KAIROS Canada website.
---
Media Contact: 
Cheryl McNamara, Communications and Advocacy Coordinator, KAIROS Canada, cmcnamara [at] kairoscanada [dot] com.