KAIROS Blanket Exercise Teaching & Sharing Circles: November 24
---
'Building Positive Relationships between Indigenous & non-Indigenous Peoples'
Led by Indigenous Knowledge Keepers with extensive experience facilitating the KAIROS Blanket Exercise (KBE), these interactive Zoom-based sessions aim to build positive relations between Indigenous and non-Indigenous people through truth, sharing, and open dialogue. Based in an Indigenous-world view and using Indigenous teachings and protocols, this new series addresses both historical and contemporary topics in an honest and personal way.
The topics have been selected to complement the KAIROS Blanket Exercise and can serve as an introduction before your group experiences the in-person or virtual KBE, or enable you to delve more deeply into specific topics after the KBE.
Ideal for schools, educational institutions, and organizations committed to the goals of the Truth & Reconciliation Commission of Canada, this new program blends historical data and facts with personal accounts and stories, thus providing a deeper and more meaningful way to learn about truth and reconciliation.
The series is offered either through individual registration (see the Fall 2020 schedule below) or can be custom delivered to your organization/group.
Each of these 2-hour Zoom-based, interactive sessions are led by an experienced KBE Indigenous facilitator/Knowledge Keeper. The cost for registering is $25 per session. Elders may attend these events free of charge (please select "Elder" when you register). Registration is limited and so please register early to ensure your spot. Please see below for the registration links.
For more information, please contact Carole Umana, at cumana@kairoscanada.org.
---
FALL 2020 PUBLIC SCHEDULE
Two Row Wampum Belt Treaty
Tuesday, October 20, 7-9pm EST
Traditional Helper, Mary-Anne Kechego, will talk about the Two-Row Wampum and Dish with One Spoon to illustrate what Treaties mean to Indigenous Nations because "it is important to educate our allies in what Treaties are and their responsibly to those said Treaties." Mary-Anne is from the Turtle Clan of the Oneida Nation and began the journey 45 years ago to find her identify as an Indigenous woman. Since returning to the London-area, she has served on the Board at the N'Amerind Friendship Centre and worked on women's programming geared towards living healthier lifestyles at the Nokeekwe and Crouch Library. Mary-Anne has been a KAIROS Blanket Exercise lead facilitator for more than two years, and lives by the motto to 'always do things with a Good Mind and Good Heart'.
---
Social Injustice in the Court System
Tuesday, November 24, 7-9pm EST
Tina Stevens is an Algonquin-Ojibwe woman from Kitigan Zibi, Kettle and Stoney Point who has lived in London (Ontario) her whole life. She has three strong sons and attributes her energy to having been raised by a strong mother – a great Elder in her own community. Her given name is Minhminhs (Little Pigeon) and she is part of the Maang Dodem (Loon Clan). She has been employed in the court system for 30 years as a Court and Client representative. Working with various unions, the Children's Aid Society, and other community organizations, Tina enjoys sharing her knowledge about Indigenous teachings, history, culture and traditions using a wide spectrum of resources.  She shares her lived experience within the settings of the courthouse. In this Teaching & Sharing Circle, we will explore how settler colonialism began the longstanding legacy of racism and discrimination toward Indigenous peoples. We will gather our voices to discuss the connections between the imposition of European culture, how Indigenous laws were overlooked, and then how the removal of Indigenous people from their home territories continues to have long-lasting impacts today. And, we will look at steps of Reconciliation that may correct or re-shape the injustices in the justice system.
---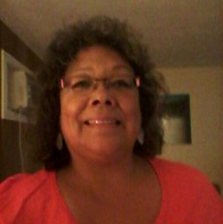 The Impact of Residential Schools in Canada
Thursday, December 3, 7-9pm EDT
(this is a repeat of the Sept 2020 session)
Oshkaabewis kwe/woman helper, Tracey Whiteye, presents The Impact of Residential Schools – the story of a second-generation residential school Survivor, an Indigenous woman who fought to regain her culture and her language through the healing of Indigenous ways of knowing. Tracey is Makwa Dodem, Bear Clan, whose spirit name is 'Polar Bear Woman Who is Looking Ahead from the Water'. She is Lenaapeew/ Anishinaabe kwe and comes from the Elunaapeewii Lahkeewiit First Nation, known as Delaware Nation of the Thames. Tracey has led many KAIROS Blanket Exercises and is currently a Master of Social Work candidate, has led numerous workshops, and teaches at the Anishnaabek Education Institute within the Social Service Worker, the Native Community Worker, and the Native Traditional Healing Methods programs.