Join us for the Climate Strike
---
Several cities across Canada including Yellowknife, Whistler, Winnipeg, Montreal, Toronto, Vancouver and Moncton have strikes happening on September 27. Climate activist Greta Thunberg will be  leading Montreal's main Climate Strike, which starts at the Sir Georges-Étienne Cartier monument on Parc Avenue.
Find out if a strike is happening in your neighbourhood and how you can participate.
KAIROS staff will be present at Toronto's biggest Climate Strike, which begins at 11 a.m. in the southern section of Queen's Park. Over 9,000 people have marked themselves as "going" on the Climate Strike's Facebook Page. The line of speakers includes Beze and Vanessa Gray from Aamjiwnaang First Nation, Cody Looking Horse, a young Indigenous activist who was at Standing Rock, Carolynne Crawley, a Mi'kmaq food justice advocate, Dianne Saxe, the former Environmental Commissioner of Ontario, and many more.
Please join us between 10:30 and 10:45 a.m. at the North West Corner of College and University Avenue to gather with the KAIROS delegation.
Bring your community or church banner and wear a little purple. The event begins at 11 a.m. with a rally. The march leaves from Queen's Park at noon. We will walk down University Avenue, up Bay Street and back to Queen's Park for a concert for climate justice at 2:30 p.m. KAIROS will be streaming our whereabouts and interviews live on our Facebook page.
Here's the route map posted on the Global Strike for Climate Justice.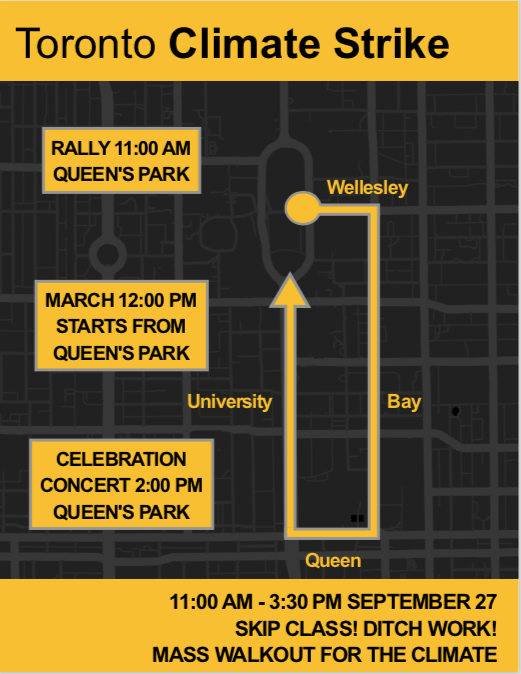 KAIROS has joined the S27 Coalition, a group of 27 civil society organizations in Toronto that has issued a series of demands, timed for the Global Climate Strike. Other coalition members include the David Suzuki Foundation, Greenpeace and Indigenous Climate Action to name a few.