Join KAIROS in Celebrating International Women's Day!
---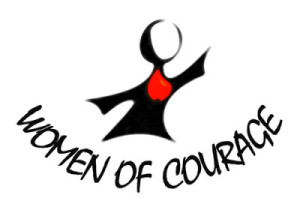 On March 8 – International Women's Day – KAIROS, our members and our global partners will recognize and celebrate the incredible contribution that women make to our movements for social and ecological justice.
From Colombia to Congo, from the Philippines to Canada, the Women of Courage Program of KAIROS has forged new connections between women human rights defenders and supported women in their struggles to defend the land and their communities.  Generous financial contributions from Canadian churches and individual donors, people like yourselves, have enabled KAIROS to pursue innovative projects that advance justice for women in partnership with women's organizations, church agencies and other civil society groups in the global South.
Our Congolese partner organization, Héritiers de la Justice, based in the eastern city of Bukavu, DRC, runs a legal clinic to assist victims of sexual violence in seeking justice.  For several years, KAIROS has supported the clinic's work, which includes accompanying women through the judicial process, offering broader support around access to medical care, and assisting with social reintegration back into the community.  No longer seen strictly as victims, many of these women have become strong advocates for women's rights through Héritiers de la Justice's capacity-building workshops and the organization of local women's committees in rural villages.
In neighbouring South Sudan, KAIROS has worked closely with the South Sudan Council of Churches to re-establish its national women's program.  Last year, a new coordinator was hired and volunteer women leaders were trained in key cities around this country of 11 million people.  With its predominantly Christian population, South Sudan became the world's newest nation after gaining independence from Sudan in July 2011.  KAIROS believes women in the churches will be key players in helping to establish a lasting peace in their country after widespread deadly violence broke out between government forces and opposition rebels in December 2013.  Sadly, to date, the peace talks aimed at stopping the violence have not included women or broader civil society representation.
In Ottawa, KAIROS  advocates for the Women, Peace and Security policy agenda .  In 2010, the Government of Canada adopted a National Action Plan on Women, Peace and Security, outlining how it will implement international commitments mandated by several UN Security Council Resolutions (1325, 1889 and 2122).  Last month the government tabled its first progress report on implementation.  KAIROS would like to see new resources committed to this important work and the direct involvement of grassroots women's organizations in the search for solutions.
Here's what you can do this International Women's Day to support the work of KAIROS and our partners:
On March 8 (or anytime during the month of March), please make a special donation to KAIROS to support the Women of Courage Program.  You can help women who are defending their rights and protecting their communities, both in Canada and internationally.  Donate today!
Join KAIROS in a moment of reflection and prayer for women's empowerment and equality.
If you have not done so already, please write to Foreign Affairs Minister John Baird and ask that Canada take a leadership role in promoting women's participation in the peace process in South Sudan. Participate in the urgent action for South Sudan.
For more information please contact:
Ian Thomson, Corporate Accountability and Africa partnerships coordinator (ithomson@kairoscanada.org)
or
Rachel Warden, Gender Justice coordinator (rwarden@kairoscanada.org)