Indigenous rights week: UN Declaration and climate justice  #KAIROSClimateAction
---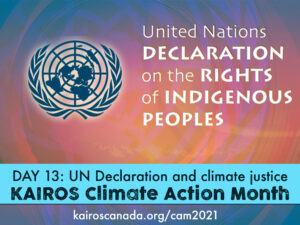 Climate Action Month enters week 3 where we explore decolonization and Indigenous rights as foundations for climate justice. This week we'll look at how to decolonize Canada's climate policies, environmental racism, Indigenous rights, and Indigenous-led climate action. Our actions this week will focus on supporting Indigenous land defenders and Indigenous-led climate action. But first, we look at the UN Declaration on the Rights of Indigenous Peoples and the role it plays in climate justice. Today is the fourteenth anniversary of the UN Declaration on the Rights of Indigenous Peoples (UN Declaration). It was adopted by the General Assembly on September 13, 2007.
We mark this anniversary during Climate Action Month because KAIROS' climate action is rooted in recognition of Indigenous rights and self-determination.
In June, Bill C-15, an act to implement the UN Declaration passed the final vote in the Senate. This was a milestone for Nations and organizations that have long advocated for this national legislation. This Act establishes a clear and ongoing legal commitment for the federal government to ensure that its laws, policies, and programs are consistent with the global human rights standards affirmed in the UN Declaration.
The implementation of the UN Declaration is important for achieving climate justice as it affirms Indigenous peoples right to conservation and environmental protection. It also recognizes Indigenous peoples right to maintain and strengthen their distinctive spiritual relationship with their traditional lands, territories, and waters and to uphold their responsibilities to future generations as part of that relationship. Recognition of this relationship is important for all peoples as we work to repair our relationships with people and with the Earth.
Learn more about the UN Declaration from Faith in the Declaration.