Hope and Light for COP28 and Beyond
---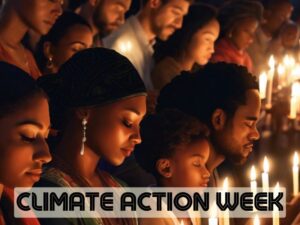 As Climate Action Week wraps up, we turn our eyes to COP28 (UNFCCC's Conference of the Parties). From November 30-December 12, world leaders, civil society, Indigenous peoples, youth leaders and others will gather at the COP28 conference in Dubai to advance action on addressing the climate emergency.
Progress at COPs can feel frustratingly slow, but this gathering remains a significant space for pushing ambition and accountability on climate action from world leaders. It's a crucial space to position voices from the Global South and the calls from those most impacted by the climate crisis. It's a space to convene and strengthen movement building between civil society, Indigenous peoples, youth, labour unions, faith communities and other climate justice allies from the Global South and the Global North.
This year, KAIROS Canada will closely follow discussions at COP concerning climate finance and the loss and damage fund, the first Global Stocktake on progress toward meeting goals in the Paris Agreement, and the fossil fuel phase out. The theme of COP 28 is Unite. Act. Deliver. Let's hope this is so.
We will also follow and connect with delegates from the global ecumenical community, including Yusra Shafi, who is attending COP28 as the Canadian representative on the UK Youth Climate Coalition delegation. Ms. Shafi was a member of the joint KAIROS and For the Love of Creation delegation to COP27 in Sharm el Sheikh, Egypt last year.
Closer to home, COP can serve as an important catalyst for communities of faith to pray, learn and act for climate justice. KAIROS is supporting activities, coordinated by For the Love of Creation, that invite you to engage in COP28:  
1 ) Participate in the Road to COP Webinar Series. This series began on November 14 with Churches' Advocacy on Loss and Damage and continues with two more events in the coming weeks:  
Thursday, November 30 at 1 pm ET
Climate Anxiety with Konnie Vissers and Pam McCarroll
Hosted by The Presbyterian Church in Canada in support of the work of For the Love of Creation
Tuesday, December 5 at 6:30-8:00 pm ET
Laudate Deum: Eco-Spirituality in Action webinar
Hosted by Citizens for Public Justice, Canadian Catholic Organization for Development and Peace, For the Love of Creation
2 ) Organize or participate in a Candles for COP Vigil or Prayer Service during the weekend of December 8-10. Visit the For the Love of Creation website for more information about this campaign and to view a map of actions happening across the country.  
3 ) From November 30 to December 12, stay tuned to the KAIROS website for blogs and follow #FLCCOP28 and #COP28 for updates on what is happening on the ground. Amplify posts and messages from Indigenous peoples, youth and young adults, women and Global South voices at COP28. 
Prayer for the COP28 climate summit (from Catholic Agency for Overseas Development, CAFOD)
God of blessings,
the universe sings of your glory.
Deepen our gratitude for all you have made
and awaken in us a renewed commitment
to care for the earth and each other.
Inspire world leaders at COP28,
with openness to listen to those most affected by climate change
and with courage to act urgently and wisely,
so that our common home may be healed and restored
and all people, and generations to come, may delight in it.
Amen.
Finally, we are also approaching the Season of Advent. The Primate's World Relief and Development Fund, a KAIROS Member, is launching a resource to help us find light and hope amid the darkness of climate change and hopelessness.  
PWRDF Resource – Hope in Action
Beset with climate-caused disasters it's easy to feel helpless from day to day. But in actions both big and small we can find hope. This season of Advent, join Karri Munn-Venn – writer, climate activist and wool farmer – as she knits together reflections of her life on the farm with scripture readings and prayer. Along the way, you'll see that farming, like Advent, is about watching and waiting, about finding light in the darkness, about hope.
On Thursday, November 23, 1 pm ET, PWRDF is hosting a webinar to launch the resource. You are invited to meet Karri and learn more about Hope in Action. Register for the webinar
The free resource is delivered as a daily email with scripture, a reflection from Karri, a prayer and a PWRDF story. The resource will also be available in its entirety as a PDF. For more information and to subscribe, go to pwrdf.org/Advent2023.