Honour National Aboriginal Day by supporting the Education for Reconciliation Initiative
---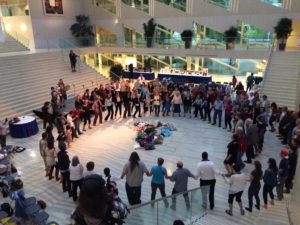 Originally published on rabble.ca on June 21, 2016 by Shannon Neufeldt.
National Aboriginal Day was first proclaimed by Governor General Roméo LeBlanc in 1996 to recognize and celebrate the unique heritage, cultures and contributions of the First Nations, Inuit and Métis peoples of Canada.
While this day is important, the truth is that the vast majority of Indigenous languages may disappear in one or two generations. Indigenous cultures, while experiencing some resurgence, are still suffering from the impact of residential schools and an official federal policy of assimilation, and the outstanding achievements of First Nations, Inuit and Métis are unknown to most Canadians.
A few weeks before last year's National Aboriginal Day, the Truth and Reconciliation Commission of Canada (TRC) released 94 Calls to Action. Directed at all sectors of society, these calls focus on the importance of education, which the TRC believes is the key to reconciliation.  Call #62.i urges provincial and territorial governments to make it mandatory that all students from Kindergarten to Grade 12 learn about Indian Residential Schools (IRS), Treaties, and the contributions of First Nations, Inuit and Métis peoples to Canada.
For more than 100 years, Indigenous and non-Indigenous peoples in Canada were taught that Indigenous peoples are inferior to Europeans. We can see the legacy of this approach today in record-high suicide rates among Indigenous youth, decades-long water advisories that continue to plague many Indigenous communities, more Indigenous children being taken from their homes and put in foster care than at the height of residential schools era, missing and murdered Indigenous women and girls….The list goes on.
Last November, KAIROS Canada and the Legacy of Hope Foundation launched a national campaign to help advance this important call, which has the potential  to end discrimination towards Indigenous peoples within a generation by addressing the ignorance that fuels it.
On National Aboriginal Day, we encourage you to sign the petition, urging your province to fully implement TRC Call #62.i as soon as possible.
Sign the petition here. To learn and do more, visit Winds of Change