Héritiers de la Justice in DR Congo overcame language challenges to engage virtually in #CSW65
---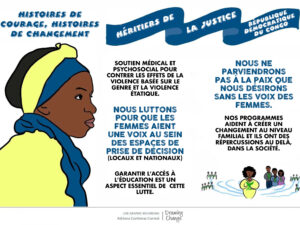 KAIROS partner in the eastern Democratic Republic of Congo (DR Congo), Héritiers de la Justice (HJ) participated in workshops during the virtual United Nation's Commission on the Status of Women Session 65, March 15 to 26, 2021 (CSW65) based on a number of themes related to increasing capacity for programming within the framework of the Women, Peace and Security project. HJ focused on: women's leadership; economic empowerment of women; ending violence against women; participation of women in public life; girls' activism; and gender equality and the empowerment of women in the context of COVID-19.
Néné Lubala and Chantal Bilulu who participated from HJ came up against language barriers as lack of translation into French in most of the sessions did not allow them to participate as effectively as possible in these meetings. This frustration lasted for the entire week of March 15-19, 2021.
IN spite of these obstacles, they were able to participate in a forum of the National Chapters of the African Women Leaders Network (AWLN) which focused on leading women's leadership in Africa. This activity was organized by their country, DR Congo, along with Germany, African Union, and UN Women and was moderated by Awa Ndiaye. Néné and Chantal had the chance to follow half of the forum in French which was delightful.
Among the issues that came to light was that as a result of the COVID-19 situation in South Africa, two-thirds of women's jobs have been lost and girls have been forced into sexual relations, trafficked, and exploited. According to Dr. Phumzile Mlambo-Ngcuka, one of the panelists and the UN Women Executive Director, it is necessary to contact traditional leaders to remedy this issue. She supported her argument by insisting that girls in her country lack digital infrastructure for their education, something that is noticeable in many African countries.
Ms. Bineta Diop, co-organizer of the AWLN, meanwhile recognized the leadership of all panel members, as well as the participation of German Ambassador, Mr. Christoph Heusgen. In AWLN's 25 chapters, women, especially young women, must be at the center of transforming Africa.
Dr. Phumzile Mlambo-Ngcuka continued with her intervention by informing the participants that there had been a women's forum in December 2020 in the United States in which there was participation from many women from African countries. Other participants in the AWLN forum discussed issues close to home for Néné and Chantal, including how to support the women of Beni and Bunia in the eastern DR Congo region, to develop responses to the pandemic, and to share information among AWLN Member States in a continued response to address gender-based violence.
Follow the KAIROS Women of Courage CSW65 reflections
Thank you for your support. Every dollar you donate to Women of Courage: Women, Peace and Security partners will generate an additional $3 in funding from Global Affairs Canada (GAC). DONATE
Reflection by: Néné Lubala and Chantal Bilulu, Héritiers de la Justice (HJ), DRC.