Héritiers de la Justice in DR Congo overcame language challenges to engage virtually in #CSW65
---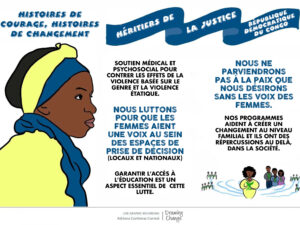 KAIROS partner in the eastern Democratic Republic of Congo (DR Congo), Héritiers de la Justice (HJ) participated in workshops during the virtual United Nation's Commission on the Status of Women Session 65, March 15 to 26, 2021 (CSW65) based on a number of themes related to increasing capacity for programming within the framework of the Women, Peace and Security project. HJ focused on: women's leadership; economic empowerment of women; ending violence against women; participation of women in public life; girls' activism; and gender equality and the empowerment of women in the context of COVID-19.
Néné Lubala and Chantal Bilulu who participated from HJ came up against language barriers as lack of translation into French in most of the sessions did not allow them to participate as effectively as possible in these meetings. This frustration lasted for the entire week of March 15-19, 2021.
IN spite of these obstacles, they were able to participate in a forum of the National Chapters of the African Women Leaders Network (AWLN) which focused on leading women's leadership in Africa. This activity was organized by their country, DR Congo, along with Germany, African Union, and UN Women and was moderated by Awa Ndiaye. Néné and Chantal had the chance to follow half of the forum in French which was delightful.
Among the issues that came to light was that as a result of the COVID-19 situation in South Africa, two-thirds of women's jobs have been lost and girls have been forced into sexual relations, trafficked, and exploited. According to Dr. Phumzile Mlambo-Ngcuka, one of the panelists and the UN Women Executive Director, it is necessary to contact traditional leaders to remedy this issue. She supported her argument by insisting that girls in her country lack digital infrastructure for their education, something that is noticeable in many African countries.
Ms. Bineta Diop, co-organizer of the AWLN, meanwhile recognized the leadership of all panel members, as well as the participation of German Ambassador, Mr. Christoph Heusgen. In AWLN's 25 chapters, women, especially young women, must be at the center of transforming Africa.
Dr. Phumzile Mlambo-Ngcuka continued with her intervention by informing the participants that there had been a women's forum in December 2020 in the United States in which there was participation from many women from African countries. Other participants in the AWLN forum discussed issues close to home for Néné and Chantal, including how to support the women of Beni and Bunia in the eastern DR Congo region, to develop responses to the pandemic, and to share information among AWLN Member States in a continued response to address gender-based violence.
Follow the KAIROS Women of Courage CSW65 reflections
Thank you for your support. Every dollar you donate to Women of Courage: Women, Peace and Security partners will generate an additional $3 in funding from Global Affairs Canada (GAC). DONATE
Reflection by: Néné Lubala and Chantal Bilulu, Héritiers de la Justice (HJ), DRC.
---
Héritiers de la Justice en RDC ont franchi la barrière linguistique pour participer à la CSW65 virtuelle
Des membres d'Héritiers de la Justice (HJ), partenaire de KAIROS de l'est de la République démocratique du Congo (RDC), ont participé à quelques ateliers virtuels de la 65e session de la Commission de la condition de la femme des Nations Unies, qui s'est tenue du 15 au 26 mars 2021 (CSW65), en particulier sur les thèmes liés au renforcement de la capacité de programmation, pertinents pour le projet Femmes, paix et sécurité. Elles ont assisté aux séances sur le leadership des femmes; l'autonomisation économique des femmes; l'élimination de la violence contre les femmes; la participation des femmes à la vie publique; l'activisme des filles; et l'égalité entre les sexes et l'autonomisation des femmes dans le contexte de la COVID-19.
Néné Lubala et Chantal Bilulu qui ont représenté HJ se sont heurtées à la barrière de la langue. Le manque de services de traduction en français dans la plupart des séances ne leur a pas permis de participer efficacement à ces réunions. Cette frustration a duré toute la semaine du 15 au 19 mars 2021.
Néanmoins, elles ont été en mesure de participer à un forum des sections nationales du Réseau des femmes africaines dirigeantes (AWLN), qui portait sur le leadership des femmes en Afrique. Cette activité, animée par Awa Ndiaye, était organisée par leur pays, la RDC, en collaboration avec l'Allemagne, l'Union africaine et ONU Femmes. Néné et Chantal ont eu la chance de suivre la moitié du forum en français, ce qui a été très agréable pour elles.
Deux des problématiques mises en lumière sont celle de la perte des deux tiers des emplois occupés par des femmes en raison de la pandémie en Afrique du Sud, et le fait que les filles sont victimes de relations sexuelles forcées, de traite et d'exploitation. Selon le Dr Phumzile Mlambo-Ngcuka, participante au groupe de discussion et directrice générale d'ONU Femmes, il faut solliciter l'intervention des chefs traditionnels pour remédier à ce problème, car les filles de son pays, comme celles de nombreux pays africains, manquent d'infrastructures numériques pour leur éducation.
Mme Bineta Diop, une des organisatrices du groupe de discussion d'AWLN, a quant à elle salué le leadership de tous les membres du groupe, ainsi que la participation de l'ambassadeur de l'Allemagne, M. Christoph Heusgen. Dans les 25 sections de l'AWLN, les femmes, en particulier les jeunes femmes, doivent être au cœur de la transformation de l'Afrique.
Dans son intervention, le Dr Phumzile Mlambo-Ngcuka a noté la tenue d'un forum des femmes en décembre 2020 aux États-Unis, auquel avaient participé de nombreuses femmes de pays africains. D'autres participants au groupe de discussion organisé par l'AWLN ont abordé des enjeux d'intérêt particulier pour Néné et Chantal, notamment les stratégies de soutien aux femmes de Beni et de Bunia dans la région orientale de la RDC, les solutions possibles à la pandémie et le partage d'informations entre les États membres de l'AWLN dans le cadre d'une action continue contre la violence sexiste.
Une réflexion de Néné Lubala et Chantal Bilulu, Héritiers de la Justice (HJ), RDC.
---
Héritiers de la Justice en la República Democrática del Congo superó los desafíos del idioma para participar virtualmente en CSW65
Héritiers de la Justice (HJ), en el este de la República Democrática del Congo, participó en talleres durante la 65ª sesión de la Comisión de la Condición Jurídica y Social de la Mujer de las Naciones Unidas virtual, del 15 al 26 de marzo de 2021 (CSW65) basada en varios temas relacionados con el aumento de la capacidad de programación en el marco del proyecto Mujer, Paz y Seguridad. Nos centramos en: liderazgo de mujeres; empoderamiento económico de la mujer; poner fin a la violencia contra la mujer; participación de la mujer en la vida pública; activismo de las niñas; e igualdad de género y empoderamiento de la mujer en el contexto de COVID-19.
Nosotras participamos a nombre de HJ y enfrentamos barreras del idioma, ya que no había interpretación al francés en la mayoría de las sesiones, lo cual no nos permitió participar en estas reuniones de forma eficaz. Este obstáculo duró toda la semana del 15 al 19 de marzo de 2021.
A pesar de estos obstáculos, pudimos participar en un foro de las Secciones Nacionales de la Red de Mujeres Líderes Africanas (AWLN) que se centró en liderar el liderazgo de las mujeres en África. Esta actividad fue organizada por nuestro país, la República Democrática del Congo, junto con Alemania, la Unión Africana y ONU Mujeres y fue moderada por Awa Ndiaye. Tuvimos la oportunidad de seguir la mitad del foro en francés, lo cual fue fantástico.
Entre los problemas que salieron a la luz están el resultado de la situación de COVID-19 en Sudáfrica, se han perdido dos tercios de los trabajos de las mujeres, y las niñas han sido obligadas a tener relaciones sexuales, traficadas y explotadas. Según la Dra. Phumzile Mlambo-Ngcuka, una de las panelistas y Directora Ejecutiva de ONU Mujeres, es necesario contactar a líderes tradicionales para remediar este problema. Apoyó su argumento insistiendo en que las niñas de su país carecen de infraestructura digital para su educación, algo que se ve en muchos países africanos.
La Sra. Bineta Diop, coorganizadora del AWLN, reconoció el liderazgo de todos los miembros del panel, así como la participación del Embajador de Alemania, el Sr. Christoph Heusgen. En las 25 secciones de AWLN, las mujeres, especialmente las jóvenes, deben estar al centro de la transformación de África.
La Dra. Phumzile Mlambo-Ngcuka continuó con su intervención informando a las participantes que hubo un foro de mujeres en diciembre de 2020 en Estados Unidos en el que participaron muchas mujeres de países africanos. Otras participantes en el foro de AWLN discutieron temas relevantes, incluyendo cómo apoyar a las mujeres de Beni y Bunia en la región oriental de la República Democrática del Congo, desarrollar respuestas a la pandemia y compartir información entre los Estados miembros de AWLN en un respuesta continua para abordar la violencia de género.
Reflexión de: Néné Lubala y Chantal Bilulu, Héritiers de la Justice (HJ), República Democrática del Congo.