Heart Listening…A Requirement for Settler Christians – by Jennifer Henry
---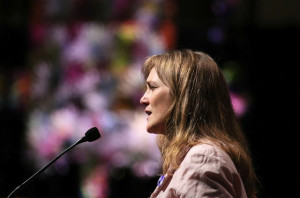 Taiaiake Alfred asserts that: "The convenient way to deal with the founding injustice of Canada is to allow colonialism to continue by ignoring the truth, to erase it from our memory, ban it from the schools, and suppress it in public." Through the advent of the Truth and Reconciliation Commission, Canada is now engaged in a structured process of truth telling, including the story of churches collaboration with empire in the colonial project of residential schools.  And that process is beginning to tell more than the residential schools story because, as important as it is, it is but one part of the broader colonial story that needs to be told.  Truth telling is both a seed bed from which a theology of contrition and a practice of right relation can emerge and could also be understood to be itself a theology with the telling and listening understood as a spiritual practice.
The Cree word for truth is "tâpwêwin" a concept that is translated as "speaking from the heart."  "Heart speaking" can crack hard shells of pity, apathy, or denial towards an ethical witness.  In the truth and reconciliation or the decolonization process, survivors' voices are privileged so that truth—"heart speaking" about colonization–might be heard.  What emerges are diverse realities and experiences.  As settler Christians, our first role is to quiet our own voices and assumptions and listen with open hearts.
Paulette Regan suggests that for settlers, "Connecting head, heart and spirit in ways that value vulnerability and humility enables us to accept harsh truths and to use our moral imagination in order to reclaim our own humanity."  In "heart listening" new truths are, in however partial a way, incorporated into our bodies.  Imam Michael Taylor, an honorary witness to the Halifax Truth and Reconciliation National Event, confirmed this when he said: "I held your pain–a small part of your pain–for a day and it hurt me, it moved me, it changed me."
Embodied "heart listening" hears resistance, courage and contribution, and not only victimization.  Also in the Halifax TRC, survivors told of how, from their perspective, there was no love in the residential schools. Reflecting back what her "heart" had heard, Commissioner Wilson said to the survivors, "there was love in the schools because you were there" and recounted to them their own stories of how, as older children, they brought the littlest ones into their beds, sheltered them from cold, smuggled them food and unlocked them from closets, even drawing punishment or abuse so that the younger ones would be spared.  Avoiding further damaging characterization of passivity or victimhood, "heart listening" can honour powerful acts of "social and psychological resistance"—actions accompanied by God as much as the experience of suffering. At the BC TRC, the word was "thurival" reflecting a conviction to not only survive but to thrive.
As we turn towards the last National Event in Alberta (March 2014), we have an opportunity to tune our heart to the listening, whether through live streaming or in person.  In marking the 250th anniversary of the Royal Proclamation, we are invited to widen that listening to the whole sweep of colonization and the destructive impacts that continue into today.  Our hearts must listen not just for victimization and injustice, but also for courage, contribution, and resistance—a trajectory towards justice into which we must collaborate.  We are invited to open our hearts in a way that is only a beginning to a future of transformed relations and bright possibilities for thriving communities and a just nation.