Halifax Banner Train Event
---
For my first out of province event for KAIROS, I wasn't sure what to expect at the Eastern banner train send-off event in Halifax. However, I could never have imagined the wonderful support and solidarity of the approximately 50 attendees at the Cornwallis Park gathering.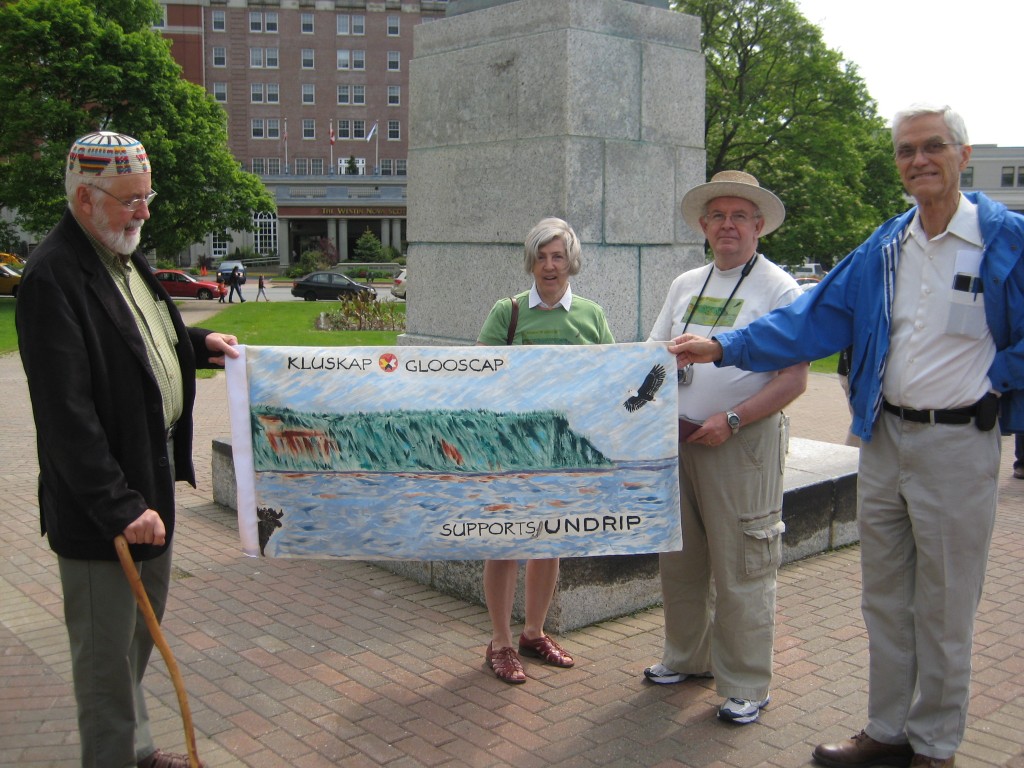 The event was scheduled for 10:45 am, but when I arrived to meet Rev. Margaret Sagar, the chief organizer of the Halifax event, at 10:00 am there were already nearly 10 people and banners unfurled in the park, and the Indigenous guests at the event assembling a drum. Over the next half an hour supporters continued to fill the park until we had enough banners to surround the statue of Cornwallis (look up his history to find out why this was such a significant act!). With drumming, prayers, and songs we marched the banners across the street and into the train station, finally packing them into a duffel bag and just making the train. I could not have asked for a better start to my trip!
Through the beautiful ceremony and the rush of getting the banners into the train, I didn't have a chance to meet Billy Lewis and Kate Graves – the two Mi'kmaq representatives I had the pleasure of accompanying to Ottawa to attend and speak at the main event.  When we had all found our sleeping compartments and settled in for the next 21 hours, we finally had an opportunity to talk about why we wanted to make the trip and what we hoped it would accomplish. As the last views of Halifax Harbour rushed past the window I think we began the process, as Billy later joked, of solving all the world's problems in one night!