Good News: Colombian government to restart peace talks with the FARC
---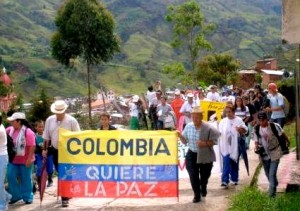 After years of pressing the government and guerrilla movements to start new peace talks, Colombian churches and civil society groups welcomed the news on Monday, August 27that the Colombian government and one of the guerrilla armies (the Revolutionary Armed Forces of Colombia or FARC) will begin talks in Oslo this October. Colombia's second largest guerilla movement, the ELN (the National Liberation Army), has not been invited to join the negotiations.
A press release from the Colombian civil society group Colombians for Peace (CCP) states: "CCP looks highly upon all actors for their willingness to find a political end to this armed conflict." The CCP hopes that, "in this occasion all efforts will be made with the necessary generosity to put an end to this conflict."
The entire press release can be found here: Colombians For Peace.
Headed by former Senator Piedad Córdoba, CCP has over the years facilitated the release of about 20 prisoners held by guerrilla armies. To date the government has refused CCP's call for on-going civil society participation in the peace process.
Lilia Solano, President of the Justice and Life Project (a KAIROS partner), and an active member of CCP, is disappointed with the government's decision to exclude civil society. "I have worked for years for this moment, but now the government has left us outside the process because it wants to talk and negotiate only with the guerrillas, not civil society."
CCP will continue to press for the participation of civil society in the peace process.
For more information, please contact Rachel Warden, Latin America Partnerships coordinator, rwarden@kairoscanada.org
Further background can be found at:
Colombia-Farc peace talks being arranged, says president
Colombians learn first details on how peace dialogue will go
ONIC Saluda positivamente las "conversaciones exploratorias con miras a un diálogo de paz"
Declaracion de las iglesia sobre los dialogos de paz en Colombia
Iglesia recibe con esperanza conversaciones exploratorias para un proceso de paz