Gathering of the Waters
---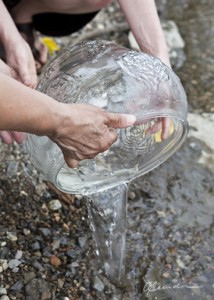 On Sunday, June 23, on Victoria Island, not too far from where Attawapiskat First Nation Chief Theresa Spence fasted for recognition of Indigenous rights, six Algonquin Kokoms (grandmothers) led a group of people from KAIROS and Ottawa's First United Church in a sacred water ceremony that included the blessing of water from congregations and communities across the country and around the world who participated in KAIROS' Our Waters, Our Life action.
A traditional gathering place for Indigenous peoples, Victoria Island is in the Ottawa River, in sight of Parliament Hill and the Department of Aboriginal Affairs building. The rain-swollen river created the perfect backdrop for Kokum Josie Whiteduck, who stood in the centre of a circle of about 100 people, surrounded by the medicines and strawberries she would use in the ceremony, and almost 200 containers of all shapes and sizes that had been sent to Ottawa for this Gathering of the Waters event.
The water ceremony began with a smudge. This was followed by a teaching on the importance and sacredness of water which included a blessing of the water offerings, containing water from all 10 provinces, 1 territory and four other countries. Fresh water and strawberries were shared and everyone was asked to pour some of the water on the ground as a sign of respect for Mother Earth. Afterwards, the Kokums provided everyone with tobacco to offer to the Ottawa River.
After a short picnic lunch the Kokoms, who are from communities north of Ottawa, explained that they came together in the spring, inspired by the Idle No More movement, and in response to requests from the young people to speak out  to protect the land. They are committed to sharing their teachings  and their stories of resistance with others.
They were joined by Alma Brooks, a Maliseet grandmother from the Wabanaki Confederacy who organized a water Convergence Ceremony in Wabanaki territory in May that KAIROS was part of and supported. Alma spoke about the Confederacy's efforts to re-establish traditional forms of governance, while resisting ongoing threats to the land and waters, including a current anti-fracking action in New Brunswick.
The gathering closed with a public acknowledgement of the source of all the water offerings as they were "gathered" into one common vessel, which was then "offered" to Mother Earth.
It was a memorable event and an important contribution to KAIROS' ongoing relationship and movement building efforts.
Thanks to all the individuals, churches, and communities who contributed to OurWaters, Our Life, whether with water, a letter to your MP, or both. Please stay tuned; Our waters, Our Life is NOT going away! We'll have more information in the fall.