For such a time as this… SHE DARES! #CSW65
---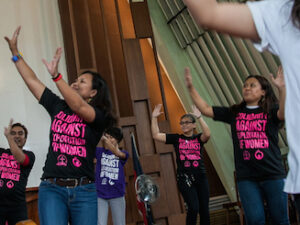 When women who know themselves begin to speak, there is no doubt that their presence fills the room.  Even over the internet, a "breath of life" connects the body gathered, as these rooted women ignite passion. Their narratives come from a deep place.  The stories are real, unique, particular, and yet somehow intertwined and united. The narratives are set upon a table for salu-salo, where each one is invited to also bring her dish for the shared banquet. Rhythms and harmonies take shape in a fiesta of affirmation where "she who knows herself" can dance with her sisters and friends and take nourishment from the feast.
As first-timers at the UN Commission on the Status of Women event for Non-Government Organizations and in a largely virtual gathering due to the COVID-19 pandemic, our team from the Philippines wasn't sure what to expect. I had envisioned that I would be overwhelmed with data and accounts of the horrors women are facing around the world. 
Yes, we have heard statistics and received links to research papers, but the primary atmosphere has been one of women who are engaged in acts of justice and peacebuilding. Surprisingly, the stories shared have been of indefatigable struggle to work for gender justice, human rights, and social/systemic change.  The narratives are of women who dare.
In the Ecumenical Women orientation for Church people, we were invited to think on the story of Esther and how she may have been called "for such a time as this" (Esther 4:14). In the Philippines, we used this same scripture in a Church Leaders' statement opposing the passage of the very draconian Anti-Terrorism Act of 2020, which we are still contesting in the Supreme Court as it will only deepen distrust, impinge on civil liberties and open the doors for abuse and state violations of human rights.
The story of Esther came to mind again as I listened to women parliamentarians, who shared first-person reflections of gender-based discrimination, threats, and harassments in one of my events.  My heart ached as I imagined these very capable, competent and chosen (that is elected) women who still have to struggle to have their dignity respected and their voices affirmed. Like Esther, they also entered the chamber of power, not knowing if their daring may lead to their demise.
One of the parliamentarians featured on the panel was Representative Sarah Elago, Kabataan (Youth) Partylist from the Philippines.  Since I have seen photo-shopped misogynistic posts of her online and have heard her being "red-tagged" and vilified many times over, her presentation and responses on the panel opened my eyes.  Sarah also sounded capable, confident, indefatigable, and daring.  She is actually all of those things.  However, in knowing more intimately the genuine threats that Congresswoman Sarah faces, a ray of illumination brought new depth: these women are not simply daring, they are women rendered and wrought in struggle.

In this virtual gathering, I long to see and connect with more of the women, men, and LGBTQ++ persons in the room.  We are co-listeners, but there is little chance to know each other in this virtual space.  I affirm what has been said, that women of color should be all-the-more invited to tell their stories.  I likewise affirm that more LGBTQ++ persons, women from "developing" countries, women from areas of conflict, and marginalized women should be invited to tell their stories.  This storytelling is one of women's ways for humans to know each other and to know themselves.
Dr. Iva Carruthers extolled that we must become "far more intentional about amplifying our voices" and recognize that there are new forms of oppression that weaponize things that have been taken for granted as part of our human rights.
She invited us to recognize that we have been traumatized in so many unconscious ways, but that we can work for our liberation and become part of amplifying the consciousness of our community.  There are surely more stories to bring to the "salu-salo" fiesta; some may not yet be so confident or conscious. Still, they must be included, if we want to truly articulate the status of women.
In the meantime, I breathe in awe of these powerful women "who know themselves" and give thanks for their daring that has filled my room. 


Glossary
salu-salo:  a get-together or party, where many people bring dishes to share

red-tagging: an "othering" or vilification tactic where a person or group is labelled as a communist or communist-terrorist that opens up the labelled persons to threats, harassment, surveillance, and other violations of human rights, including being killed extra-judicially
The Partylist system aims to give marginalized sectors or groups, including labor, peasant, urban poor, Indigenous peoples, women and youth, representation in Congress 
Follow the KAIROS Women of Courage CSW65 reflections 
---
March 17, 2021: A reflection by Rebecca Lawson, Ecumenical Voice for Human Rights and Peace in the Philippines
---