For such a time as this… SHE DARES! #CSW65
---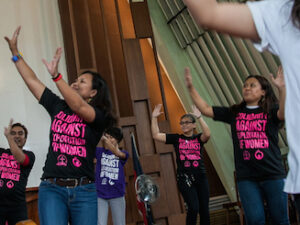 When women who know themselves begin to speak, there is no doubt that their presence fills the room.  Even over the internet, a "breath of life" connects the body gathered, as these rooted women ignite passion. Their narratives come from a deep place.  The stories are real, unique, particular, and yet somehow intertwined and united. The narratives are set upon a table for salu-salo, where each one is invited to also bring her dish for the shared banquet. Rhythms and harmonies take shape in a fiesta of affirmation where "she who knows herself" can dance with her sisters and friends and take nourishment from the feast.
As first-timers at the UN Commission on the Status of Women event for Non-Government Organizations and in a largely virtual gathering due to the COVID-19 pandemic, our team from the Philippines wasn't sure what to expect. I had envisioned that I would be overwhelmed with data and accounts of the horrors women are facing around the world. 
Yes, we have heard statistics and received links to research papers, but the primary atmosphere has been one of women who are engaged in acts of justice and peacebuilding. Surprisingly, the stories shared have been of indefatigable struggle to work for gender justice, human rights, and social/systemic change.  The narratives are of women who dare.
In the Ecumenical Women orientation for Church people, we were invited to think on the story of Esther and how she may have been called "for such a time as this" (Esther 4:14). In the Philippines, we used this same scripture in a Church Leaders' statement opposing the passage of the very draconian Anti-Terrorism Act of 2020, which we are still contesting in the Supreme Court as it will only deepen distrust, impinge on civil liberties and open the doors for abuse and state violations of human rights.
The story of Esther came to mind again as I listened to women parliamentarians, who shared first-person reflections of gender-based discrimination, threats, and harassments in one of my events.  My heart ached as I imagined these very capable, competent and chosen (that is elected) women who still have to struggle to have their dignity respected and their voices affirmed. Like Esther, they also entered the chamber of power, not knowing if their daring may lead to their demise.
One of the parliamentarians featured on the panel was Representative Sarah Elago, Kabataan (Youth) Partylist from the Philippines.  Since I have seen photo-shopped misogynistic posts of her online and have heard her being "red-tagged" and vilified many times over, her presentation and responses on the panel opened my eyes.  Sarah also sounded capable, confident, indefatigable, and daring.  She is actually all of those things.  However, in knowing more intimately the genuine threats that Congresswoman Sarah faces, a ray of illumination brought new depth: these women are not simply daring, they are women rendered and wrought in struggle.

In this virtual gathering, I long to see and connect with more of the women, men, and LGBTQ++ persons in the room.  We are co-listeners, but there is little chance to know each other in this virtual space.  I affirm what has been said, that women of color should be all-the-more invited to tell their stories.  I likewise affirm that more LGBTQ++ persons, women from "developing" countries, women from areas of conflict, and marginalized women should be invited to tell their stories.  This storytelling is one of women's ways for humans to know each other and to know themselves.
Dr. Iva Carruthers extolled that we must become "far more intentional about amplifying our voices" and recognize that there are new forms of oppression that weaponize things that have been taken for granted as part of our human rights.
She invited us to recognize that we have been traumatized in so many unconscious ways, but that we can work for our liberation and become part of amplifying the consciousness of our community.  There are surely more stories to bring to the "salu-salo" fiesta; some may not yet be so confident or conscious. Still, they must be included, if we want to truly articulate the status of women.
In the meantime, I breathe in awe of these powerful women "who know themselves" and give thanks for their daring that has filled my room. 
Follow the KAIROS Women of Courage CSW65 reflections
March 17, 2021: A reflection by Rebecca Lawson, Ecumenical Voice for Human Rights and Peace in the Philippines
Glossary 
salu-salo:  a get-together or party, where many people bring dishes to share 
 
red-tagging: an "othering" or vilification tactic where a person or group is labelled as a communist or communist-terrorist that opens up the labelled persons to threats, harassment, surveillance, and other violations of human rights, including being killed extra-judicially 
The Partylist system aims to give marginalized sectors or groups, including labor, peasant, urban poor, Indigenous peoples, women and youth, representation in Congress
---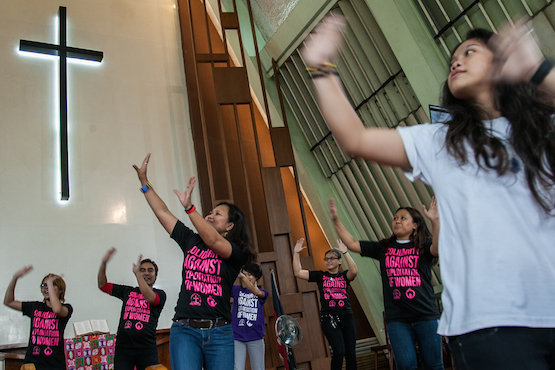 ---
Pour un temps comme celui-ci… Elle ose!
Une réflexion de Rebecca Lawson, Voix œcuménique pour la paix et les droits de la personne aux Philippines

Lorsqu'une femme qui se connaît prend la parole, il ne fait aucun doute que sa présence remplit la pièce. Un « souffle de vie » se dégage du groupe, même s'il n'est réuni que virtuellement, tant ces femmes enracinées animent la passion. Leurs récits jaillissent du plus profond d'elles. Leurs histoires sont réelles, uniques, particulières et pourtant, d'une certaine manière interreliées et unies. Les récits sont déposés à la table mise pour le salu-salo, garnie des plats qu'elles ont apportés pour le banquet partagé. Rythmes et harmonies prennent forme dans une fête d'affirmation à laquelle « celle qui se connaît » danse et festoie avec ses sœurs et ses amies.
C'était la première fois que nous participions à l'activité organisée par la Commission de la condition de la femme des Nations unies pour les organisations non gouvernementales, et notre équipe philippine ne savait pas trop à quoi s'attendre. J'imaginais, quant à moi, que j'allais être submergée de données et de récits sur les horreurs auxquelles les femmes sont confrontées dans le monde.
Oui, nous avons entendu des statistiques et reçu des liens vers des documents de recherche, mais ce qui prédominait était une ambiance de femmes engagées dans des initiatives pour la justice et la consolidation de la paix. Il est surprenant de constater que les histoires partagées furent celles d'une lutte infatigable pour la justice entre les sexes, les droits de la personne et le changement social et systémique. Nous avons entendu les récits de femmes qui osent.
Dans le cadre des Orientations des Femmes œcuméniques pour les gens d'Église nous étions invitées à réfléchir à l'histoire d'Esther et au fait qu'elle a pu être appelée « pour un temps comme celui-ci » (Esther 4:14). Aux Philippines, nous référons à ce même passage dans une déclaration des responsables d'Église qui s'opposent à l'adoption de la draconienne Loi antiterroriste de 2020, que nous contestons toujours devant la Cour suprême, car elle ne fera qu'accroître la méfiance, empiéter sur les libertés civiles et ouvrir la porte aux abus et aux violations des droits de la personne par l'État.
J'ai repensé à l'histoire d'Esther en écoutant les femmes parlementaires qui, lors d'une activité, ont partagé leurs réflexions personnelles en lien avec les menaces, le harcèlement et la discrimination fondés sur le sexe. Le cœur serré, j'imaginais ces femmes qualifiées, compétentes, des femmes qu'on a choisies (c'est-à-dire élues), lutter encore pour faire respecter leur dignité et pour faire entendre leur voix. Comme Esther, elles sont entrées dans la chambre du pouvoir, sans savoir si leur audace ne les conduira pas à leur perte.
Sarah Elago, députée philippine du parti de représentation sectorielle Kabataan (jeunesse), participait à la table ronde. J'avais vu des photos truquées d'elle accompagnées de messages misogynes sur Internet, et j'avais entendu les accusations diffamatoires incessantes à son adresse la cataloguant de « rouge » (red-tagging en anglais). Son intervention et les explications qu'elle a données à la table ronde m'ont ouvert les yeux. Sarah aussi semblait compétente, confiante, infatigable et courageuse, et elle a, en effet, toutes ces qualités. À la lumière de ce que j'ai appris sur les dangers réels auxquels s'expose l'élue, j'ai réalisé que ces femmes sont courageuses, mais que leur caractère a de surcroît été forgé dans la lutte.

J'aurais envie de voir et d'interagir avec beaucoup plus des femmes, des hommes et des personnes LGBTQ++ présents dans la salle virtuelle. Dans cet espace, nous sommes co-auditeurs, mais les possibilités de mieux se connaître sont limitées. Je réaffirmerais ce qui a été dit, à savoir qu'on doit inviter plus de femmes de couleur à raconter leur histoire, ainsi que plus de personnes LGBTQ++, de femmes de pays « en développement », de femmes vivant dans des zones de conflit et de femmes marginalisées. C'est par le récit que les femmes aident l'humain à se connaître et qu'elles apprennent à se connaître elles-mêmes.
Le Dr Iva Carruthers a insisté sur le fait que nous devons nous efforcer d'« amplifier nos voix de manière beaucoup plus résolue » et qu'il faut se rendre à l'évidence qu'il existe de nouvelles formes d'oppression qui présentent comme attaques les revendications liées à des droits de la personne reconnus qui doivent être pris pour acquis.
Elle nous a invitées à reconnaître que nous avons subi de nombreux traumatismes dont nous ne sommes pas conscientes, mais que nous pouvons travailler à notre libération et contribuer ainsi à la croissance de notre conscience communautaire. Il y a sûrement d'autres histoires à offrir à la fête du salu-salo; certaines femmes ne sont peut-être pas encore assez confiantes ou conscientes pour les partager. Pourtant, elles doivent être entendues si nous voulons vraiment définir la condition de la femme.
En attendant, empreinte d'admiration pour ces femmes fortes « qui se connaissent », je remercie pour leur courage, qui remplit ma pièce.
Glossaire
Salu-salo : une réunion ou une fête où on apporte un plat à partager.

Red-tagging : une tactique d'altérisation ou de diffamation consistant à cataloguer une personne ou un groupe comme communiste ou terroriste communiste, exposant les victimes à des menaces, du harcèlement, de la surveillance et d'autres violations des droits de la personne, ainsi qu'au risque d'assassinat.
Système de représentation sectorielle (party list en anglais) : systèmevisant à permettre la représentation au Congrès de couches ou groupes marginalisés de la population, notamment les travailleurs, les paysans, les pauvres des villes, les peuples autochtones, les femmes et les jeunes.
---
Durante un momento como este … ¡ELLA SE ATREVE!
Una reflexión de Rebecca Lawson, Voz Ecuménica por los Derechos Humanos y la Paz en Filipinas
Cuando las mujeres que se conocen a sí mismas comienzan a hablar, no cabe duda que su presencia infunde el espacio. Incluso a través de una conexión de Internet, un "aliento de vida" conecta al grupo reunido, estas mujeres enraizadas despiertan entusiasmo. Sus narrativas provienen de un lugar profundo. Las historias son reales, únicas, particulares y, sin embargo, de alguna manera están entrelazadas y unidas. Los relatos se comparten sobre una mesa de salu-salo, donde se invita a cada persona a traer un platillo para el banquete. Los ritmos y las armonías cobran vida en una fiesta de afirmación donde "ella la que se conoce a sí misma" puede bailar con sus hermanas y amigas y nutrirse de la fiesta.
Como participantes por primera vez en el evento de la Comisión de la Condición Jurídica y Social de la Mujer de las Naciones Unidas para organizaciones no gubernamentales y en una reunión en su mayoría virtual debido a la pandemia de COVID-19, nuestro equipo de Filipinas no estaba seguro de qué esperar. Había imaginado que estaría abrumada con datos y relatos de los horrores que enfrentan las mujeres en todo el mundo.
Sí, escuchamos estadísticas y recibimos enlaces para informes de investigación, pero el ambiente es un ambiente de mujeres comprometidas con actos de justicia y la consolidación de la paz. Sorprendentemente, los relatos compartidos hablan de una lucha incansable para reivindicar la justicia de género, los derechos humanos y el cambio social / sistémico. Son las narrativas de mujeres que se atreven.
En la introducción de Mujeres Ecuménicas para la gente de la Iglesia, se nos invitó a pensar en la historia de Ester y cómo pudo haber sido llamada "para un momento como este" (Ester 4:14). En Filipinas, usamos esta misma escritura en una declaración de Los Líderes de la Iglesia que se opone a la aprobación de la draconiana Ley Antiterrorista de 2020, que aún estamos impugnando en el Tribunal Supremo, ya que solo agudizará la desconfianza, afectará las libertades civiles y abrirá la puerta a los abusos y violaciones estatales de los derechos humanos.
La historia de Ester me vino a la mente de nuevo mientras escuchaba a las mujeres parlamentarias, quienes compartieron sus reflexiones sobre la discriminación, las amenazas y el acoso por motivos de género en uno de mis eventos. Me dolía el corazón al imaginarme a estas mujeres capaces, competentes y elegidas que todavía tienen que luchar para que se respete su dignidad y se afirmen sus voces. Al igual que Ester, también entraron en la cámara del poder, sin saber si su osadía podría llevar a su desaparición.
Una de las parlamentarias que participo en el panel fue la Representante Sarah Elago, Partylist Kabataan (Jóvenes) de Filipinas. Dado que he visto fotos de ella que son misóginas, han sido retocadas y se han publicado en línea y he escuchado que la "etiquetan en rojo" y la han denigrado muchas veces, su presentación y sus respuestas en el panel me abrieron los ojos. Sarah también se comunicaba de una forma capaz, segura, infatigable y atrevida. Ella encarna en realidad todas esas cosas. Sin embargo, al conocer más íntimamente las amenazas genuinas que enfrenta la congresista Sarah, un rayo de luz me aportó una nueva profundidad: estas mujeres no son simplemente atrevidas, son mujeres moldeadas y forjadas en la lucha.
En esta reunión virtual, anhelo ver y conectarme con más mujeres, hombres y personas LGBTQ ++ en la sala. Somos co-oyentes, pero hay pocas posibilidades de conocernos en este espacio virtual. Afirmo lo dicho, que las Mujeres de Color deberían ser invitadas con mayor razón aun a contar sus historias. Asimismo, afirmo que más personas LGBTQ ++, mujeres de países "en vías de desarrollo", mujeres de zonas de conflicto y mujeres marginadas deberían ser invitadas a contar sus historias. Compartir relatos es una de las formas en que las mujeres se conocen entre sí y se conocen a sí mismas.
La Dra. Iva Carruthers declaró que debemos volvernos "mucho más intencionales en la amplificación de nuestras voces" y reconocer que hay nuevas formas de opresión que hacen de lo que se da por sentado un arma como parte de nuestros derechos humanos.
Ella nos alentó a reconocer que hemos sido traumatizadas de distintas maneras inconscientes, pero que podemos luchar por nuestra liberación y ser parte de la amplificación de la conciencia de nuestra comunidad. Seguramente hay más historias para compartir en la fiesta del salu-salo; algunas mujeres pueden no estar todavía muy seguras de sí mismas o conscientes. Aun así, deben incluirse, si queremos articular verdaderamente la condición jurídica y social de la mujer.
Mientras tanto, respiro con asombro ante estas poderosas mujeres "que se conocen a sí mismas" y doy gracias por su atrevimiento que ha infundido mi espacio.
Glosario
salu-salo: un encuentro o una fiesta, donde mucha gente trae comida para compartir

etiquetar en rojo: una táctica de "alteridad" o difamación en la que una persona o grupo es etiquetado como comunista o comunista-terrorista que expone a las personas etiquetadas a amenazas, acoso, vigilancia y otras violaciones de los derechos humanos, incluido el asesinato extrajudicial
El sistema Partylist tiene como objetivo dar a los sectores o grupos marginados, incluidos los trabajadores, los campesinos, los pobres de zonas urbanas, los pueblos indígenas, las mujeres y los jóvenes, representación en el Congreso