Fasting from Inaction and Complacency – by JoAnne Lam
---
Spirited Reflection – Sunday, February 9, 2014
JoAnne Chung Yan Lam is a Hong-Kong born Chinese-Canadian who has traveled many countries and enjoys learning about new cultures. She is the proud mother of Deborah and Gideon.   JoAnne was baptized at the St. Philip's Lutheran Church in Hong Kong, trained in The United Church of Canada, and was a member of the Evangelical Lutheran Church of Geneva, Switzerland.  A student in her final year at Waterloo Lutheran Seminary, JoAnne is currently serving as the intern at St. Peter's Evangelical Lutheran Church in Ottawa and CPJ (Citizens for Public Justice) until September 2015.
Isaiah 58:1-9a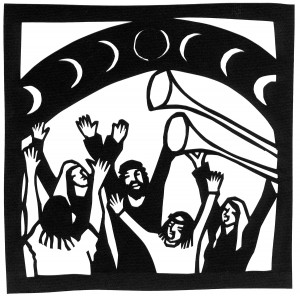 "Clothe the naked!"
"Feed the hungry!"
"Liberate the oppressed!"
Such are the familiar slogans preached at the pulpits, proclaimed at rallies and demonstrations, and punctuated in advocacy campaigns by organizations focused on social justice. How many of us quote these phrases in prayers, sermons, reflections, and conversations? At the same time, how much of our words get turned into actions? A tendency for an individualistic society is to foster a comfortable "naval-gazing" attitude. We sit and contemplate and pray. We gather to dialogue about issues and concerns. We preach and advocate in words the need for justice in an unjust world. As much as these activities are necessary, the living out of justice often remain static at this stage of bringing awareness to the vulnerable voices. Is that as far as the call to loosen the "bonds of injustice" means? When does it require us to sit with a homeless person at a drop-in centre and to listen to her or his story? When is it necessary for us "to undo the thongs of the yoke, to let the oppressed go free, to share our daily bread with the hungry, to bring the homeless poor into our houses, to clothe the naked and not to hide ourselves from our own peoples?"
In Isaiah 58:1-9a, the people of Israel struggled with the efficacy of their fasts. They had thought that God required from them only fasting from food. These individuals only approached fasting in a superficial sense where they abstained from food, but partook in self-serving acts. They imposed and oppressed their workers on their fast days and argued and fought with one another. The people of Israel did not realize that by fasting, they were to not only discipline their bodies, it was a disciplining of their minds and spirits, emptying themselves of anthropocentric desires and moving towards godly ones. God challenged the people of Israel to live out their fasts through acts of justice in their community.
To be a light into the darkness, Christians need to first figure out how to "light" ourselves up! There are so many concerns and issues in the world that require our advocating voices, but what of our "hands of justice?" What of our "feet of justice?" In this season of Epiphany, where the Magi GOT UP and went SEARCHING for Jesus, we too must get out of our pews and launch into action. How often are the churches making statements, but how many are out there calling the government into accountability with regards to low-income housing, social services for refugees, and infrastructure to export our natural resources? We must be lights in the darkness because the spark of justice moves in us through the Word of God, the ministry of Jesus, and the agitation of the Holy Spirit. Be a light, go clothe the naked. Be the salt, feed the hungry and offer hospitality to the homeless. Be the irritant to the complacent status quo and fast holistically in words and deeds. May the words of our mouths and the deeds of our hands be acceptable to our Creator.