Extraction, cooptation are not feminist policies #CSW65
---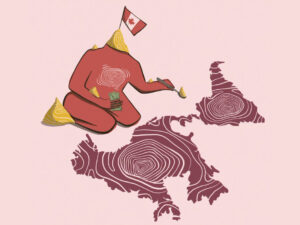 From Zoom link to livestream, across multiple corners of the Earth, and very much in spite of digital inequities, people came together for the 65th session of the Commission on the Status of Women (CSW65). The COVID-19 pandemic prompted the United Nations and other organizing entities to undertake a mostly virtual endeavor. Many of the ideologically divergent side events were organized around the effects of the pandemic on the compounding forms of violence that women, girls, and gender diverse people already must contend with.  
However, it was the women at the helm of grassroots movements who, as featured panelists at some of these side events, outlined feminist understandings of the global flows of power and their impacts. Their assessments brought to the fore significant contradictions. Namely, how those in state-recognized positions of influence—including some CSW65 organizers and sponsors—profess to welcome feminist critiques on the global stage only to disavow them later in decision-making spaces.
Land defenders spoke about the perils of corporate misconduct and impunity; the lack of corporate and investor transparency and accountability; the damage that the corporate sleight of hand of pushing consultation over free, prior, and informed consent has wrought on communities and the environment; and the devastation of profit-driven development. Indigenous women living in settler-colonial countries, like Canada, the Philippines, and Panama, denounced how states and corporations manipulate and folklorize Indigeneity for extractive ends—in both the material and symbolic sense.
In their evaluation of the present moment, women human and environmental rights defenders described the coercive violence of cooptation, which points to the limitations of the politics of representation. Federal governments have been usurping the language of gender-based analysis and gender equality to proclaim feminist national and international policies, while also championing economic strategies that heighten gender-based violence and steering away from generating public policies in support of everyday people and their immediate surroundings. It has been communities that, for example, through women-led mutual aid efforts and ancestral medicine, have responded most effectively and promptly to local needs during this pandemic.
What if elected officials, state bureaucrats, corporate executives, scientists and scholars, among others, listened generously to and processed the messages of women human and environmental rights defenders, without distorting or coopting them? Would we be living in this variant-inducing pandemic, awaiting vaccines that will merely shroud but not fix the patriarchal+ conditions—the amalgam of many everyday decisions—that enabled this mess to begin with? 
Follow the KAIROS Women of Courage CSW65 reflections
Thank you for your support. Every dollar you donate to Women of Courage: Women, Peace and Security partners will generate an additional $3 in funding from Global Affairs Canada (GAC).  DONATE
Reflection by Gabriela Jimenez, Latin America Partnerships Coordinator, KAIROS.