Endena Cogasi, A Woman of Courage
---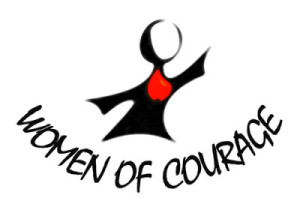 Presented by Vernie Yocogan-Diano, on behalf of Innabuyog, an alliance of Indigenous women's organizations in the Cordillera, Philippines,  on 9 December 2010 during the Gawad Tanggol Karapatan or Awards for Cordillera human rights defenders by the Cordillera Human Rights Alliance in observance of the International Human Rights Day. Ina (mother) or Alapo (grandmother) Endena Cogasi was one of the awardees.
She is a woman of courage.
She raised a family on her own in her far village of Sabiyan, Agawa in Besao Mountain Province.
She is a woman of courage. She lived a simple life to serve her own community and people.
She is a woman of courage.
She did not yield to military harassment  even when she was asked to walk to the military station with a gun pointed at her back. Without fear, she demanded the soldiers to put away their gun and return her bolo that they stole!
She is a woman of courage.
She joined delegations to dialogue with the military like the 702nd Brigade where at that time Major Palparan was one of the commanders. Former Sen. Jovito Salonga even acknowledged her courage in one of the peace rallies in Mountain Province against the 702nd Brigade in December 1991.
She is a woman of courage.
Along with other Cordillera elders, women and the youth faced with strong will the state's security forces during a rally of Indigenous peoples at the general headquarters of the Armed Forces of the Philippines (AFP) in observance of the World's Indigenous Peoples' Day in August 2004.
She is a woman of courage.
She was one of the strong leaders and advisers along with Mother Petra Macliing, Leticia Bulaat and others of Innabuyog and the Cordillera Peoples Alliance.
She is a woman of courage.
She inspired a number of Cordillera women, young and old, to follow her footsteps of courage and dedication to serve the women and people.
She is a woman of courage. Amidst age and ailment, she continues to be with us. At this time of her weakening, let us give her the best support we can.
Even if she is not here with us physically, let us all receive this award for her. Indeed, she is an invincible icon of defending the human rights of poor Indigenous peoples and women. This award will not commensurate her dedication and indefatigable service to the women and people of her community in Sabiyan, tribe in Agawa and the Cordillera region who continue to struggle for justice. But this is our collective recognition that indeed Ina or Alapo Endena Cogasi, was part of the history of struggle in the Cordillera.
Dayaw mi na ken sik-a, Ina ya Alapo'y Endena
(We hail you, Mother or Grandmother Endena)!