Easter video message to share: Easter mystery in extraordinary times
---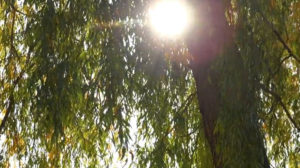 Dear Friend,
These are tough times we are living in right now. We are very concerned for the grave risks, particularly to vulnerable peoples and communities in Canada and around the globe. It can be hard to keep our spirits up. In this context, your continued support of our shared work for justice, your overwhelming interest in joining our recent COVID-19 and Migrant/Undocumented Workers webinar, your messages of support, and your donations help lift our spirits. Thank you.
I invite you to watch KAIROS' 2020 Easter video: Easter Mystery in Extraordinary Times. Please forward it to your family, friends, congregation and community. Post it on Facebook or tweet it. If you attend a church virtually, consider sharing it there and on your community's e-list.
On behalf of KAIROS' Steering Committee, Circles, staff, partners, and network, I thank you for all the ways you support us. Wishing you peace and health this Easter season.
Jennifer Henry,
Executive Director, KAIROS
Text version of video
La Pietà is a famous statue in Rome. You probably know it. Mary, mother of Jesus, cradles his lifeless, crucified body in her arms. Her pain and grief are palpable.
This year, as we approach the Easter mystery in extraordinary times, I have been imagining another sculpture – one of Mother Earth cradling all her relations.
Some have said this terrible moment of global pandemic is Nature taking her revenge. But instead, I see Mother Earth more like Mary of La Pietà.
In this sculpture, Mother Earth cradles extinct species, dried up rivers, bleached coral, koalas burned by fires. She holds on her ample lap the migrants lost at sea, children dead from bombs, human rights defenders disappeared, women murdered. She rocks in her arms nurses and doctors who have died saving lives from the COVID-19 virus.
Rather than revenge, I see pain and grief.
I see comfort for all her relations. Anger at injustice affecting any of her children. Undocumented persons isolated and without help, refugees and homeless who cannot find shelter, Indigenous peoples without access to clean water.
The Easter story invites us to enter into that deep pain and loss. To lament. To cry out. To grieve injustices that lead to the untimely death of what is good — creation, human beings — embodied in Jesus' passion.
We do not deny that pain but, carrying our losses with us, lament and repentance opens to another chapter. One in which hope is reborn. Not a hope that papers over the grief, but a hope that heals, animates, and pulls us forward into transformation. Into resurrection.
This Easter, may we comfort one another in grief. May we rage with one another against injustice. And may we come together — virtual as it may be — in the sure and certain hope of resurrection. Of a world transformed by our collective action. This Easter, let's not forget Christ risen. Let's not be afraid to hope.
Wishing you a Blessed Easter from all of us at KAIROS.