Easter hope: KAIROS brief Easter video for sharing
---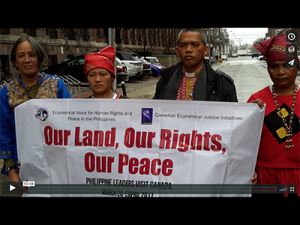 Dear Friends,
Here is the KAIROS Easter video. I invite you to take a moment to watch it, share it with your family and friends, post it on Facebook and tweet it. Share it on your congregation or community e-lists. Show it in your church. Maybe even make a donation!
On behalf of the Steering Committee, circles, staff, partners, and volunteers, I thank you for all the ways you support us. Peace to you this Easter season.
Jennifer Henry,
Executive Director, KAIROS
---
Full text of the Easter message:
When I first heard the testimonies from the KAIROS Philippines delegation, my mind and heart were drawn to the images and feelings of Good Friday.
In the stories of Indigenous communities experiencing terror and violence, of their leaders risking death to speak their truth, in the news of human rights violations, and ecological degradation — the picture is one of peoples and the earth betrayed by our injustice.
"We, the members of the Subanen Tribe, are victims of the large-scale mining operations of Canadian mining companies. Resource development companies occupy thousands of hectares and have resulted in the displacement of thousands of our fellow Indigenous Peoples and farmers. They were displaced and some were even killed during the operations of these mining companies."
Nenita Condez, Indigenous Subanen Leader
And yet, when you listen carefully, something else comes through. Courage. Persistence. Determination. It's hope. Hope that we heard them… We, as Canadians, who might become allies in their quest for justice. We, as the Government of Canada, that can help protect them from the human rights violations they experience related to the actions of irresponsible companies that wear our flag.  We, as citizens of the world, who will join with them to build peace, sustainability, justice, in their beautiful, bio diverse and abundant homeland
I heard hope in the power of empathy, of solidarity, of together, of Easter possibility.
"We are here in Canada to seek justice and ask the Canadian government to investigate the activities of Canadian mining companies that operate in our country and commit human rights violations."
Nenita Condez Indigenous Subanen Leader

"This is my ministry to serve the people, serving my god. So, I can't stop this one. I will survive, I will fight until the end. "
Bishop Antonio Ablon, Philippine Independent Church
Our partners believe in life.  Even in fear and struggle, they believe in the power of conversion, imaged by the Risen Christ for whom death – even death – was no barrier to transformation. And if they believe, when their situation feels impossible, so can we.
As we celebrate Easter—the heart of our faith—I want to extend my gratitude to each and every one of our courageous partners in Canada and around the globe.
Our partners witness hope to us every day, reminding us that love can triumph, justice can prevail, and the impossible is possible.
Our accompaniment of you is our greatest honour. Thank you
And a most blessed and happy Easter to each and all.