Chiapas communities empowered by Education and Training program for Human Rights
---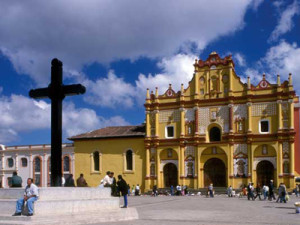 KAIROS' Rachel Warden travelled to Chiapas, Mexico in late January, specifically to the Diocese of San Cristobal de las Casas, to visit communities involved in the Diocese's Education and Training program for Human Rights promoters, a program KAIROS has supported for three years.
This program aims to promote and strengthen individual, collective and environmental rights, and supports alternative and traditional governments by training community leaders to be human rights promoters. Rachel met with some of these human rights promoters. In the community of Sibaca she  attended a meeting of 11 municipal leaders, many of whom had participated in the program and who are involved in a grassroots movement in defense of land, territory and Indigenous rights.
Rachel also joined a delegation organized by the Jesuit Forum of Canada and participated in activities commemorating the 5th anniversary of the death of Don Samuel Ruiz, the beloved Bishop of San Cristobal for 40 years.  On January 25, she participated in a pilgrimage and mass honouring of Don Samuel that drew more than 5,000 people from communities throughout Chiapas. It was an incredible experience; a powerful expression of the legacy and work of Don Samuel Ruiz, and the resilience, organization and deep spirituality and faith of the Indigenous peoples of Chiapas.