How Canada can better its brand in the Philippines
---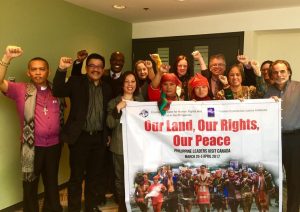 Communities in the Philippines would benefit from the appointment of an independent extractive-sector ombudsperson to monitor Canadian mining operations overseas.
Canadian mining companies are often the face of Canada in the Global South. For those affected by these companies, this face may be a far cry from how Canadians like to see themselves.
According to the Canadian Chamber of Commerce of the Philippines, there are close to 200 Canadian companies in the Philippines. With this economic presence, Canada can play an important role in ensuring corporate accountability. Communities in the Philippines would benefit from the appointment of an independent extractive-sector ombudsperson to monitor Canadian mining operations overseas, as well as access to Canadian courts for non-nationals who have been harmed by the international operation of Canadian companies.
The current situation in the Philippines offers a compelling case for Canada to take action. Philippine laws and the armed forces tend to protect and promote international trade and investments at the expense of its citizens' civil, socio-economic, and political rights. On the resource-rich Philippine island of Mindanao, state security and paramilitary forces are driving people from their lands, depriving them of their livelihoods, and destroying their food sources. Those who choose to stand their ground may be killed.
When representatives from Canadian civil society groups visited Mindanao in 2014 as part of a KAIROS-led learning tour, they reviewed credible evidence of numerous human rights violations allegedly associated with Canadian-linked mining operations on the island, including displacement and lost livelihood.
For people living in these communities, many who are indigenous, accessing a just and accessible judicial system is not possible.
Making matters worse, violations of economic, social, and cultural rights have worsened conflict in the region that has been ongoing for decades, and which has driven displaced persons to take up arms under the banner of militarized organizations such as the New People's Army, a member of the National Democratic Front of the Philippines (NDFP).
Clearly a legal and fair process is required to address serious allegations related to extractive industries on Mindanao and in other regions and countries. Indeed, Canada's international human rights commitments obligate the government to take action. More than once, the United Nations Committee on the Elimination of Racial Discrimination has recommended that Canada adopt new measures to hold transnational corporations registered in Canada accountable for negative impacts they cause overseas.
An extractive-sector ombudsman would be able to independently investigate complaints, seek judicial support if companies fail to provide pertinent data to help with the investigation, and make recommendations to corporations and the government of Canada—including the withdrawal or termination of government support, subsidy, promotion, or protection. It would replace the Office of the Extractive Sector Corporate Social Responsibility Counsellor, which has been largely ineffective since it was established by the federal government in 2009.
There are hopeful signs. In 2014, when in opposition, Chrystia Freeland, now foreign affairs minister, voted in favour of a private member's bill to establish an extractive-sector ombudsperson (Bill C-584). We encourage the minister and her colleagues in Global Affairs Canada to re-introduce the bill this year.
We also encourage legislation that gives non-nationals, who claim to be harmed by Canadian extractive companies, access to Canadian courts. While there have been landmark cases in Ontario and British Columbia where courts have agreed to hear plaintiffs who claim abuse linked to Canadian mining companies, enshrining this access in Canadian law will help foster greater corporate accountability in countries with lax judicial systems.
In addition to legislating open-for-justice policies, the Canadian government could offer much-needed diplomatic support—as a key trade partner—for the formal peace talks currently underway between the Philippines government, NDFP, and other liberation groups.
As a public champion of international peace and security, and a key political and financial backer of Canadian extractive companies, Canada has the power to improve the human rights and environmental performances of companies overseas.
By doing so, the government will help ensure that Canada's international face projects an image that better reflects how Canadians wish to be perceived.
---
Connie Sorio is KAIROS Canada's Asia-Pacific Partnerships Co-ordinator.
Originally published in The Hill Times on Wednesday, March 22, 2017