Blanket exercise opening eyes and minds
---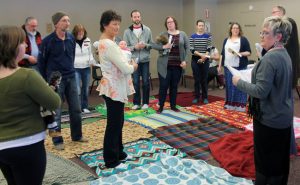 Photo: Around 40 community members took in the Blanket Exercise that was hosted by Wetaskiwin ParentLink and facilitated by Roy and Judy Louis at By-The-Lake Park Feb. 25. The exercise, which was developed by KAIROS, has become a popular teaching tool to share the historic and contemporary relationship between Indigenous and non-Indigenous peoples in Canada.
---
Wetaskiwin hosted a Blanket Exercise this past weekend to share the historic and contemporary relationship between Indigenous and non-Indigenous peoples in Canada.
Developed by KAIROS, the Blanket Exercise is an interactive activity that illustrates Canada's history from First Nations, to the arrival or Europeans, residential schools and the results of the Truth and Reconciliation Committee's recommendations.
Wetaskiwin ParentLink hosted the event at By-The-Lake Park Saturday.
"Our mandate is to serve and engage all families," said Julia Karga-Magas, ParentLink coordinator. "But for people to be comfortable, the whole community needs to be a welcoming place."
Facilitated by Roy and Judy Louis, around 40 people took part in the activity, which was followed by a talking circle to discuss what was learned and lunch to further encourage discussions and fellowship.
"Hopefully, we can look at this in a proactive way and get some good information out there," said Roy Louis.
"Our hope is we can be a welcoming and inclusive organization," said Karga-Magas, "but we realize…the whole town needs to become a welcoming, open community. Everybody touches the lives of young children. Because we're raising the next generation, we have a responsibility to do better by them."
"Wetaskiwin is the place where peace was made," said Louis. "With all the history, Wetaskiwin is a very special place and I feel it's a good day today and I hope we can work together and get to know each other."
Sharing a story of when he was a young child and his grandmother stabbed a knife into the floor of her home to drive home the point of how Louis needed to do right by his people if he had an opportunity to do so, Louis said, in his 70s now that memory is still crystal clear.
"What happens in our minds as children, we carry with us," he said.
Judy Louis opened the exercise by arranging a series of small blankets in the middle of a large circle and shaping them into the country of Canada, or Turtle Island as it was called by Canada's First Nations.
She then asked participants to step up from their chairs and take a spot on the "country" where she shared some of the history of life prior to the Doctrine of Discovery  and how the arrival of Europeans changed the way of life for First Nations peoples who had their own language, cultures, traditions, rule of law and trading practices.
Judy Louis then began pulling back and removing the blankets as she guided the participants through a historical timeline that includes the treaty-making process, residential schools and other events that impacted indigenous people in Canada until their was only one blanket left to represent the two per cent of land occupied by Canada's First Nations.
While blankets were being pulled away, discussions on residential schools resulted in some participants having their "children", represented by dolls, taken away. Other traditional items were also used in the exercise to illustrate their uses and impact on Aboriginal people.
"This is interesting because you see how the country is evolving," said Roy Louis.
---