Being a part of history #CSW65
---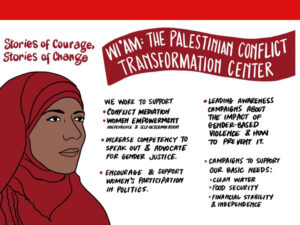 I am Lucy Talgieh, the Women Coordinator at Wi'am: Palestinian Conflict Transformation Center in Bethlehem, Palestine. I am currently participating in the online 65th UN Commission on the Status of Women (UNCSW65). It was always my dream to take part in the CSW's meetings. Last year as I was almost ready to leave my homeland with my ticket, suitcase and visa ready, I had to take a decisive decision not to leave for New York due to COVID-19 travel restrictions and lockdown. In that context, after the first Palestinian cases of coronavirus were reported, and the local authorities announced a state of emergency, imposing a full lockdown, I had the sense that the situation was getting worse.
I was eager to participate in the CSW because I know these forums to be rich with diverse information, stories and experiences of women leaders, women from different backgrounds who are participating in their communities, changing laws and impacting transformations. Much appreciation to KAIROS Canada for providing a pathway to enable my participation.
It was not easy start to understand the online UN system and the extensive and confusing CSW65 programs, but with some orientation from KAIROS Canada, I have been able to review the programs, identify sessions and diarize them.
In the first two days participating in different sessions, the content reaffirms that women are making history, changing discriminatory laws against women, demanding equal representation in all aspects of life, and currently taking part in emergency committees in responding to COVID-19 at the level of planning, humanitarian assistance, guidance and decision-making processes.
One of the highlights was from a session on Spanish women's experience in "Women in Leadership in Law and Policies", presented by Maria Teresa Fernandez, the President of the Spanish Council of State since 2018. She talked about women's participation and hard-fought journey to change policies and laws, with this strong quote, standing out for me – "History shows that women fight for their rights until society is changed".
Follow the KAIROS Women of Courage CSW65 reflections
Thank you for your support. Every dollar you donate to Women of Courage: Women, Peace and Security partners will generate an additional $3 in funding from Global Affairs Canada (GAC). DONATE
---
March 18, 2021: Reflection by Lucy Talgieh, Women's Coordinator, Wi'am: Palestinian Conflict Transformation Center in Bethlehem
---