Being a part of history #CSW65
---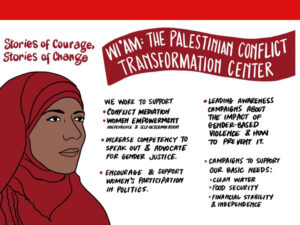 I am Lucy Talgieh, the Women Coordinator at Wi'am: Palestinian Conflict Transformation Center in Bethlehem, Palestine. I am currently participating in the online 65th UN Commission on the Status of Women (UNCSW65). It was always my dream to take part in the CSW's meetings. Last year as I was almost ready to leave my homeland with my ticket, suitcase and visa ready, I had to take a decisive decision not to leave for New York due to COVID-19 travel restrictions and lockdown. In that context, after the first Palestinian cases of coronavirus were reported, and the local authorities announced a state of emergency, imposing a full lockdown, I had the sense that the situation was getting worse.
I was eager to participate in the CSW because I know these forums to be rich with diverse information, stories and experiences of women leaders, women from different backgrounds who are participating in their communities, changing laws and impacting transformations. Much appreciation to KAIROS Canada for providing a pathway to enable my participation.
It was not easy start to understand the online UN system and the extensive and confusing CSW65 programs, but with some orientation from KAIROS Canada, I have been able to review the programs, identify sessions and diarize them.
In the first two days participating in different sessions, the content reaffirms that women are making history, changing discriminatory laws against women, demanding equal representation in all aspects of life, and currently taking part in emergency committees in responding to COVID-19 at the level of planning, humanitarian assistance, guidance and decision-making processes.
One of the highlights was from a session on Spanish women's experience in "Women in Leadership in Law and Policies", presented by Maria Teresa Fernandez, the President of the Spanish Council of State since 2018. She talked about women's participation and hard-fought journey to change policies and laws, with this strong quote, standing out for me – "History shows that women fight for their rights until society is changed".
Follow the KAIROS Women of Courage CSW65 reflections
Thank you for your support. Every dollar you donate to Women of Courage: Women, Peace and Security partners will generate an additional $3 in funding from Global Affairs Canada (GAC). DONATE
March 18, 2021: Reflection by Lucy Talgieh, Women's Coordinator, Wi'am: Palestinian Conflict Transformation Center in Bethlehem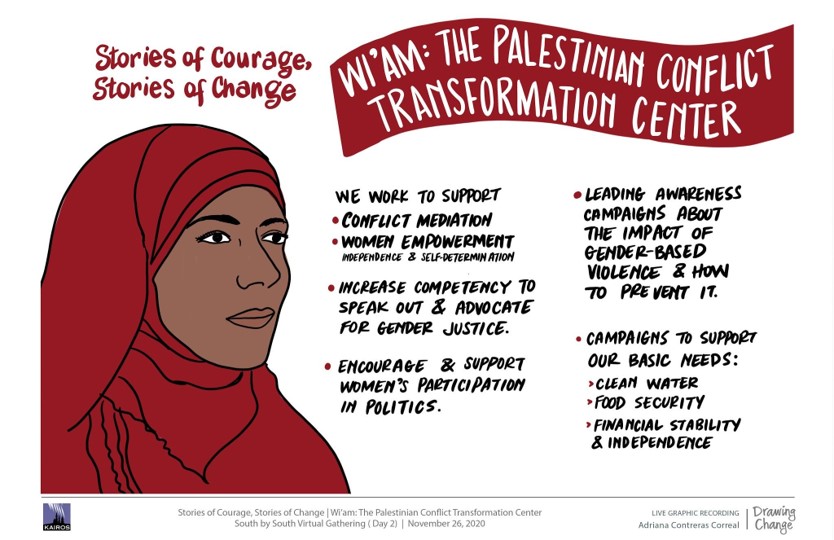 ---
Nous écrivons l'histoire
Je m'appelle Lucy Talgieh et je suis coordonnatrice des projets visant les femmes à Wi'am : Centre palestinien de transformation des conflits à Bethléem, Palestine. Je participe actuellement à la 65e session de la Commission de la condition de la femme des Nations unies (CSW65), qui se tient en ligne. J'ai toujours rêvé de prendre part aux réunions de la CSW. L'année dernière, alors que j'étais sur le point de quitter mon pays, billet, visa et valise en main, j'ai dû prendre la décision de ne pas partir pour New York en raison des restrictions de voyage et des mesures de confinement liées à la COVID-19. Une fois que les premiers cas de coronavirus ont été signalés en Palestine et que les autorités locales ont annoncé l'état d'urgence, imposant un confinement total, j'ai eu le sentiment que la situation empirait.
J'étais impatiente de participer à la CSW, car je savais que ces forums sont une mine d'or d'informations diverses, d'histoires et d'expériences de femmes leaders, de femmes de milieux différents, activement engagées dans la vie de leurs communautés, qui réussissent à changer les lois et à déclencher des transformations. Je suis très reconnaissante à KAIROS Canada d'avoir rendu possible ma participation.
Au début, j'ai eu du mal à naviguer dans le système en ligne de l'ONU et à me retrouver dans les vastes programmes de la CSW65, mais avec un peu d'assistance de la part de KAIROS Canada, j'ai pu m'orienter, passer en revue les programmes, repérer les séances et m'établir un calendrier.
Le contenu présenté lors des séances des deux premiers jours confirme que les femmes sont en train d'écrire l'histoire, de changer les lois qui sont discriminatoires à leur égard et d'exiger une représentation égale à celle des hommes dans tous les aspects de la vie. Actuellement, elles participent aux comités d'urgence mis sur pied pour répondre à la COVID-19 au niveau de la planification, de l'aide humanitaire, de l'orientation et des processus décisionnels.
L'un des moments forts a été celui de la présentation de Maria Teresa Fernandez, présidente du Conseil d'État espagnol depuis 2018, sur le thème des femmes aux commandes dans le domaine du droit et des politiques (« Women in Leadership in Law and Policies »), notamment l'expérience des femmes espagnoles. Elle a parlé de la lutte que les femmes ont dû mener pour changer les politiques et les lois. Pour reprendre ses mots, qui m'ont marquée : « L'histoire montre que les femmes se battent pour leurs droits jusqu'à ce que la société change ».
Lucy Talgieh, coordonnatrice des projets visant les femmes, Wi'am : Centre palestinien de transformation des conflits à Bethléem.
---
Ser parte de la historia
Soy Lucy Talgieh, Coordinadora de Mujeres en Wi'am: Centro de Transformación del Conflicto Palestino en Belén, Palestina. Actualmente estoy participando en la 65ª Comisión de la ONU sobre la Condición Jurídica y Social de la Mujer (UNCSW65). Siempre fue mi sueño participar en las reuniones de la CSW. El año pasado, cuando estaba casi lista para dejar mi tierra natal con mi boleto, maleta y visa listos, tuve que tomar una decisión definitiva de no irme a Nueva York debido a las restricciones de viaje y el confinamiento de COVID-19. En ese contexto, luego de que se reportaran los primeros casos palestinos de coronavirus, y las autoridades locales declararon un estado de emergencia, imponiendo un confinamiento total, tuve la sensación de que la situación empeoraba.
Tenía muchas ganas de participar en la CSW porque sé que estos foros son ricos en información diversa, historias y experiencias de mujeres líderes, mujeres de distintos orígenes que están participando en sus comunidades, cambiando leyes y potenciando transformaciones. Muchas gracias a KAIROS Canadá por brindarme un camino que me permitió participar.
No fue fácil comenzar a comprender el sistema de las Naciones Unidas en línea y los programas CSW65 son extensos y confusos, pero con un poco de orientación de parte de KAIROS Canadá, he podido revisar los programas, identificar sesiones y registrarlas.
En los dos primeros días participando en diferentes sesiones, el contenido reafirma que las mujeres están haciendo historia, cambiando leyes discriminatorias contra las mujeres, exigiendo representación igualitaria en todos los aspectos de la vida, y que actualmente están participando en comités de emergencia en respuesta al COVID-19 a nivel de los procesos de planificación, asistencia humanitaria, orientación y toma de decisiones.
Una de las actividades más destacadas fue de una sesión sobre la experiencia de las mujeres españolas titulada "Mujeres y liderazgo en derecho y políticas", presentada por María Teresa Fernández, presidenta del Consejo de Estado español desde 2018. Habló sobre la participación de las mujeres y la lucha para cambiar políticas y leyes, y esta cita contundente me resaltó – "La historia demuestra que las mujeres luchan por sus derechos hasta que se cambia la sociedad".
Lucy Talgieh, Coordinadora de Mujeres, Wi'am: Centro de Transformación del Conflicto Palestino en Belén