Spirited Reflection: Back to the Circle
---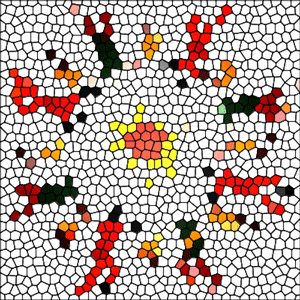 Time and again it comes back to the circle. The first day of the Truth and Reconciliation Commission Saskatchewan National Event begins with the lighting of the sacred fire and ends with a round dance.
In her poem, "Reconciliation", Rebeka Tabobondung, an Ojibwa from Wasauksing, says "we will whisper the circle back / and it will be old and it will be new".
But tonight we danced it back. It struck me how much this dance is a glimpse of the Canada we want to renew. Young dancing with old and First peoples dancing with "second peoples" and visitors, including Claudia, our Colombian partner.  Hands clasped, we move together but only with steps (or pushes of the wheel) the size of the smallest dancer.
We circle the drummers who keep us connected to the heart beat of a common humanity, the heart beat of Mother Earth. It is a movement that is both joyful, but also profound and intentional. And after each song, there are expressions of gratitude -for the singers, for the drummers, for the dancers.
As in many moments in this truth and reconciliation process, I find myself deeply moved to be welcomed into the circle, into the dance. After all my people and my church have done, we are still and again, invited back, invited to share this land, invited to find our place in the circle, where everyone is equal, where all have a voice.
As Commissioner Marie Wilson so aptly said: "Reconciliation is not a spectator sport". It is more like a dance. It is listening with our whole hearts. It is finding our place in the circle. It is acting out the justice of our heart's truth. It is joining our hands with others until the circle includes us all.