A tribute to Dick and Helen Peters
---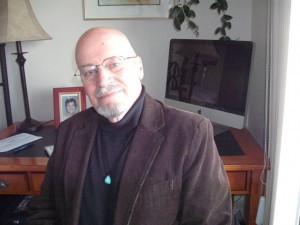 Our dear and long time friend Dick Peters announced his retirement from his work with KAIROS Prairies/North region. The following are a few thank you messages to Dick and Helen Peters for their generous commitment and contribution to KAIROS.
"Our deepest appreciation for the leadership you have brought to KAIROS. Strength and grace to you!" – Jennifer Henry, KAIROS' Executive Director
"I received an email that you sent about your withdrawal from your work with KAIROS Prairies North. I know that you and your heartfelt dedication to ecumenical justice initiatives will be missed by all the friends you made through your leadership in Grenfell, in Saskatoon, in Prairies North, in Canada and beyond. Jane and I have immediately included you in our daily prayers. After you retired the first time as Regional Rep, you were referred to as a `KAIROS Ambassador`.
"I enjoyed our times together, wh
en you came twice a year to meet with the Movement Building Circle; I was inspired, Mister Ambassador, by your visit to Cerro de San Pedro and your personal account of being there. Even though the nature of what you do for KAIROS will change, I don`t think that you can ever not be a KAIROS Ambassador.
"In your own person, through your clear vision of a just and peaceful world, and your heroic perseverance, you have managed to express the passion of why KAIROS is so important and to embody the heart of the challenge that is KAIROS. Blessings as ever." – Tom Sagar – Former Regional Rep KAIROS Great Lakes/ St. Lawrence
"Hear hear… Thanks Tom for your eloquent words and a toast of the finest and purest waters to Dick for all your work in KAIROS and your passion for a more just world. As Tom says your work might change but I will see you as standing like a tall strong deep rooted tree amongst many and that you are part of that greater 'wisdom to survive'. Blessings." – Janet Gray – Regional Rep, KAIROS BC/Yukon
"We express most strongly our gratitude to you and Helen for all you have done in pursuit of justice, peace and goodwill in many roles and many circles, (KAIROS related and other): in several local Saskatchewan communities, the province (north and south), the Prairies & North Region, and the country (not to mention your trip to the mining community in Mexico). And others will remember the various community garden projects.
"The energy you put into these efforts was amazing (to use a term overworked these days), almost boundless (in spite of health challenges) and an inspiration to us all. So now the time has come for you to devote less emphasis on caring for others and the planet, and more on caring for yourselves. With Jim and others we wish you both the very best as you navigate this next phase of your journey." – Dan Beveridge and KAIROS Regina
"I just wanted to send a note to let you know I'm thinking about you, and giving thanks for all the faithful service you've rendered to KAIROS all these years. You are a true elder in our circles, and an inspiration for the work and ministry we all share.  Because of you and Helen, the world is filled with that much more justice, courage, and compassion.  You are a blessing for all those who are fortunate enough to know you. Please know that you and Helen are always welcome to come up to the farm for a visit … I look forward to the next time our paths cross! Yours in the peace of Christ." – Shawn Sandford Beck – St. Kateri Catholic Worker – KAIROS Community
KAIROS Staff:
"Thank you so much for all you have given to KAIROS. We're better for you being a part of who we are. Much love to you and Helen." – Sara Stratton, Member Relations and Campaigns coordinator.
"You have been a wonderful advocate, a persistent gentle voice! Enjoy your 'retirement'. Blessings." – Shannon Neufeldt, Network and Young Adult coordinator.
"I will never forget the stories of you   driving around in a Volkswagen bug with Ana Maria in Cerro de San Pedro. Thanks for all your solidarity and commitment." – Rachel Warden, Latin American Partnerships and Gender Justice program coordinator.
"Infinite thanks for all the work, support and solidarity you have given to KAIROS for so many years. You leave a mark and an example of how to live our faith and our love for all creation." – Alfredo Barahona, Indigenous, Migrant and Network Relations coordinator.