Aisha Francis
---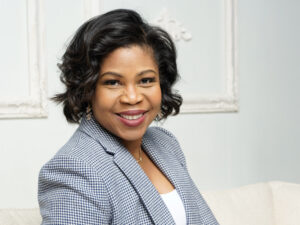 Executive Director
416-463-5312
Aisha is a seasoned professional with twenty-five years of diverse leadership and business experience across the private, corporate and non-profit sectors. Called upon as a thought-leader, creative visionary and prolific speaker, Aisha is also an author who has the gift of connecting narratives, experiences and ideas seamlessly with structure and strategy to energize, motivate and inspire purpose-driven action and achievement.    
In 2014 Aisha founded Project Restore, a grassroots organization with a focus on justice, racial equity and access for families impacted by incarceration (FIBI). Aisha has significant experience in leadership development in a faith-based organization and a strong background in advocating for racial justice issues. She also has an extensive background in corporate budget and operational oversight. 
She sits as a director on the Boards of Ajax Public Library, CEE Centre for Young Black Professionals and Eva's Initiatives for Homeless Youth. Aisha is the recipient of many awards and recently she was selected as one of the 100 Accomplished Black Canadian Women for 2020.