Visual Art, Theatre, Dance, Music and the Spoken Word
---
Can Somebody SEE Me? A rap song by Clint Sock.
Released on February 7, 2020.
Clint Sock is a First Nation Indigenous Hip Hop artist from Halifax, Nova Scotia, born in Prince Edward Island.
---
Nibaa by Mike Valcourt, a mural on the Public Safety Building Parkade in Winnipeg
Nibaa is Ojibwe for sleep, which also implies that a journey is taking place. We travel as our body rests and our spirit crosses over to the spirit world. The Indigenous woman here wears a wreath upon her head and the juxtaposition of the skull just below, on her neckline, indicates a balance between life and death. She is in limbo, so to speak. There is a ghosted hand covering her mouth, representing the attempt to silence, whether self-inflicted or externally imposed, there is the desire to remain silent. The work also has a controversial message, suggesting that doing nothing also causes harm, both from government and from the lack of programs, protocols and standards our nation fails to exercise. The band of three colours represents the separation of the physical and spiritual worlds. The parade of women marching across the mural represent the missing and murdered women, walking along a highway, much like the Highway of Tears. As they disappear across the bands and over to the spirit world, they are transformed into buffalo. They are free."
On January 21, 2020, Nibaa created during Wall-to-Wall Mural & Culture Festival in 2017 was demolished. This demolition was expected, and adds another layer to the story that is represented.
---
Commemorative artwork, She Lights the Way, by Mi'kmaq artist Pauline Young is on display at Mount Allison University's Wallace McCain Student Centre. Read article.
"I hope that one day, people will be sitting at dinner talking about it, joining the Facebook pages on MMIWG and sharing the pictures, and pressuring law enforcement everywhere to take this seriously. It is time to read, learn, and speak up with us so that we can decrease the numbers of missing and murdered and eliminate it all together."
Mi'kmaq artist Pauline Young unveiled her stained glass piece commemorating missing and murdered Indigenous women and girls on Tuesday evening at Mount Allison University. (Pierre Fournier/CBC)
---
Art installation, Every One, by artist Cannupa Hanska Luger is made up of over 4,000 massive clay beads that were handmade by communities around Canada and the United States, as a visual representation of data estimates of MMIWG. Each bead represents a body. Read article. More about MMIWQT Bead Project.
The idea for the piece came from a conversation between Luger and Kaska Dena artist Kali Spitzer from northern B.C. about how to create more visibility around the issue.
---
Someone Knows is a textile piece by Hedley artist Karen Cummings, and aims to inspire awareness and conversations surrounding the epidemic facing Canadian Indigenous women and girls. The piece is a standard-size Canadian flag, created completely from thrifted fabric. The flag's white stripe is 122 quilted squares with either a question mark or an outline of a body stitched onto the square with red thread. Read article.
---
Large qaspeq carries faces of missing, murdered Indigenous women. Amber Webb is a Native artist from Dillingham Alaska. Visit her Facebook page for close up images of the Indigenous women represented in her artwork. Amber Webb made the qaspeq, which displays portraits of over 200 Alaskan, Canadian, and Native American Murdered Indigenous Women and Girls. (Loren Holmes / ADN). Read article.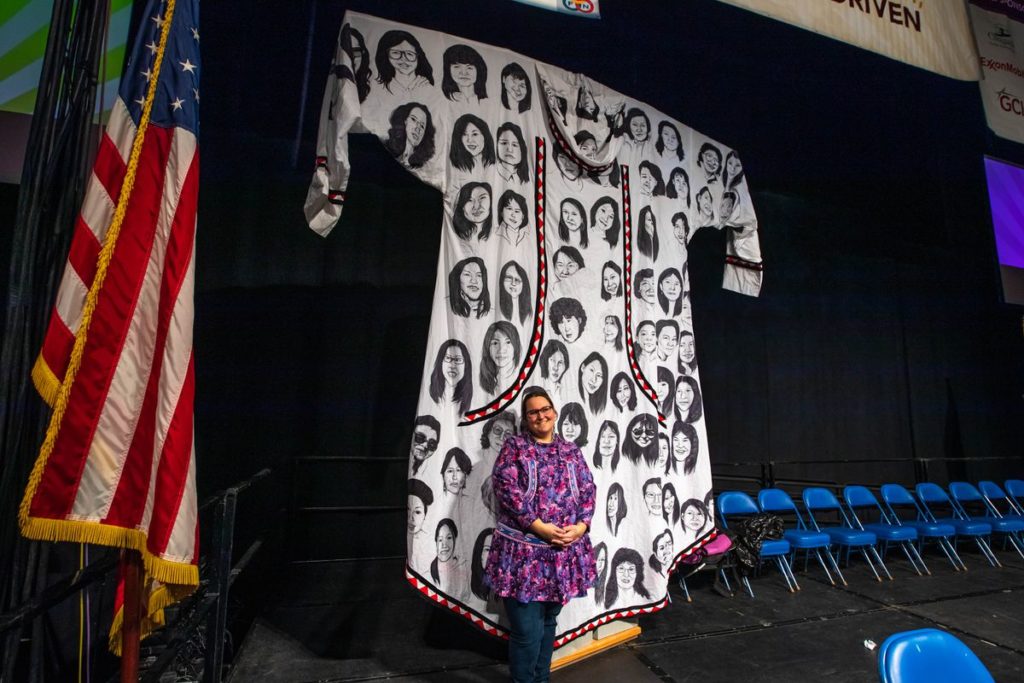 ---
Tatoo artist, Tristen Jenni Sanderson, creates painting Not Invisible
Tillie Aldrich says Sanderson's painting of her daughter is one she can't stop looking at.
"It was breathtaking, it was beautiful and I just stare at it. I do every day," she said.

"It doesn't make me sad, it doesn't make me miss her, it just empowers me to keep fighting," added Aldrich.
It's why Sanderson created the original painting, to create more awareness for missing and murdered Indigenous women and girls. Read article.
---
Ripples of Loss, by Terry McCue
"Alberta artist Terry McCue was so moved the first time he heard about the REDress movement, he was inspired to come up with his own tribute to missing and murdered Indigenous women and girls. A year and a half later, the Ojibway painter has a series of 16 works, making up the exhibit Ripples of Loss. "This is the most important work in my career," said McCue, 72." Read article.
---
MMIWG murals created by Edmonton-area students travelled with MMIWG inquiry
22 students from Archbishop O'Leary and Kipohtakaw Education Centre worked on the murals that are now a part of a legacy project. More male students than female students from Kipohtakaw Education Centre participated in the project.
Educator Raylene Hunter: "We took the approach of them becoming future fathers themselves and honouring their mothers and their grandmothers as well as looking at awareness for the females in their lives" Read article.
---
This River Runs Red by Shan Goshorn.
"The US is far behind Canada in tracking the violence that Native women face, but even Canada has conflicting statistics. Cherokee artist Shan Goshorn addresses that issue in a piece called "This River Runs Red." To create the work, she printed statistical information about missing and murdered indigenous women on watercolor paper splints and wove them into a basket. On the inside, she printed the names and tribes of 306 murdered and missing women compiled by the Canadian Broadcasting Corporation, whose cases the Royal Canadian Mounted Police had determined solved. "The families and communities said, 'No, it's not solved at all," says Goshorn.
A red gash runs through the black and white exterior of the basket, representing the Red River of the North, which runs from Winnipeg to the Northern part of South Dakota, and in which many bodies of Native women have been recovered." Read article.
---
Missing and Murdered Aboriginal Women Honoured in Chamber Opera MISSING
Written by distinguished Canadian Métis playwright Marie Clements, with a gripping score by JUNO Award-winning composer Brian Current, this work confronts the immense tragedy of more than 1,200 missing and murdered First Nations, Inuit and Métis women and girls in Canada, and the devastation to communities and families – both First Nations and non-First Nations – left to grapple with their loss. Read article. Background information. Read review.
Its world premiere was on November 1, 2017, in a private event for the families. After a five-performance public run, at the York Theatre, it will then run an additional six nights at Pacific Opera Victoria.
Missing is a chamber opera designed for touring. The plan is to take it along the Highway of Tears to Prince George, to Winnipeg, to Ottawa, and to other Canadian centres where this story needs to be heard, witnessed and discussed.
---
MMIWG Guerilla Art project appears at unannounced locations and captures people's reactions on film
Spearheaded by artists Destin Running Rabbit and Iman Bukhari, the provocative project aims to get people to recognize "the brutal reality" facing many Indigenous communities — and asks them what they're doing about it, said Running Rabbit.
Running Rabbit, 25, said he built this project around his own childhood experiences while growing up on the Siksika reserve. Read article.
---
Mural in Whitehorse honours Wendy and Angel Carlick, mother and daughter killed 10 years apart
Young people with Yukon's Youth of Today Society (InnerVibe Community Centre) are painting two portraits on the wall of the Staples store at the corner of Ogilvie Street and Third Avenue in Whitehorse. It is a tribute to two Yukon women whose murders remain unsolved. Angel Carlick was 19 when she was found dead in 2007. In April 2017 her mother, Wendy Carlick, was murdered in Whitehorse. Read article.
"In essence we are hoping the Creator will see our prayer, of some sorts, and find justice for the missing and murdered."
---
Highway of Tears, written by acclaimed songwriter Ben Rogers
The song Highway Of Tears came out in February 2017 in hopes of raising awareness about the issue of missing and murdered Indigenous women throughout Turtle Island.
"The crowds have been great and really willing to engage and dialogue about the issue and how it affects their communities and their families," he explained. "It's been really eye-opening talking to various people from various parts of the province. My hope is that the song will inspire listeners and fans to take action."
A portion of the single's sales will provides financial support to Battered Women's Support Services in Vancouver and specifically to Indigenous Women's Programs. Read article. Link to song on iTunes.
---
Sisters in Spirit play created and performed by Welland Centennial Secondary School
What started off as a school play to bring awareness to the crisis of murdered and missing indigenous women and girls in Canada has become an award-winning show receiving high praise from the Indigenous community.
Sisters In Spirit was written and produced by students at Welland Centennial Secondary School. Those students, guided by teacher Max Ingrao, took on the challenge of telling the stories of indigenous women accurately and with respect and sensitivity to the Indigenous community.
The show also took home awards from the SEARS Drama Festival at both the regional and provincial levels. From the provincials, Corriveau received the Mira Award for her performance; the group as a whole received the Award of Excellence of Production; and the John Bennie Technical Achievement Award was given to students Conor Koval and Gryffin Schirru for their live music. The play also received at Peltoma Award for Outstanding Production. Read article.
---
Acclaimed throat singer Tanya Tagaq performs "Qiksaaktuq" with the Toronto Symphony Orchestra
Qiksaaktuq includes an improvised lament for missing and murdered Indigenous women. Veteran Canadian vocalist and conductor Christine Duncan also used improvisation to direct the brass section using a series of cues she had developed. The work was commissioned by the Toronto Symphony, and was one of seven that received world premieres at the New Creations Festival, which ran March 4 to 11, 2017. Read article.
---
Vanished, painting by Melissa Johns
---
Cleansing the Highway of Tears: MMIW in cross-country musical collaboration
Kym Gouchie wrote Cleansing the Highway of Tears while taking part in a healing walk during the summer of 2016.
"When I sing 'we are cleansing the Highway of Tears when we walk,' it is placing a positive energy over that highway. It's creating prayer and thoughtfulness and creating awareness of that highway."
Gouchie was invited to perform the song at a forum about missing and murdered Indigenous women hosted by CBC Radio's The Current in October 2016. The performance was broadcast nationally and caught the ear of Angela Rudden, principal violist with the National Ballet of Canada and a music instructor at Toronto's Dixon Hall Music School. Rudden and her students then set about writing an orchestral score to accompany the song. Gouchie recorded a new vocal track to go along with the arrangement and is including it on an upcoming album. Listen to audio. Read article.
---
Pig Girl, novel and screenplay by Colleen Murphy
Colleen Murphy won the Governor General's Literary Award for English Drama in 2016 for her critically acclaimed work Pig Girl . Read article. Visit her website.
Jury Citation: "Colleen Murphy weaves a masterfully structured examination of humanity within our most inhumane moments. Pig Girl forces us to relentlessly bear witness to a single night of horror that echoes the silenced ongoing violence against women. Difficult and harrowing, it asks us to acknowledge our collective responsibility. Arresting. Undeniable. Unforgettable." Read article.
"I got pretty angry in 2010," says Murphy of the origins of Pig Girl, which premiered in a 2013 production at Edmonton's Theatre Network. "It came to me fast." Three years after the conviction of the Coquitlam, B.C. pig farmer, the Crown had just opted not to proceed with the 20 outstanding murder charges against him.
The deaths of women — mostly aboriginal and mostly sex workers — were dismissed by police, and by society at large, in a way that enabled violence to continue. At the time, Murphy said her impulse was to give the women a voice they didn't have in newscast mug shots."
---
The Highway music video by N'we Jinan Artists, Kitsumkalum First Nation
The song called "The Highway" was penned by students at the 'Na Aksa Gyilak'yoo School in Kitsumkalum First Nation, just outside of Terrace in northern B.C.
The video that accompanies the ballad shows a girl who hitchhikes on Highway 16 — nicknamed the "Highway of Tears," for the high number of women that have disappeared along the route over the past 50 years — while the teens sing about resilience and their community's strength. Read article.
---
In October 2016, Canada's unions staged a unique and powerful performance with music by A Tribe Called Red, video, holograms and dance to honour Canada's missing and murdered Indigenous women. Learn more about how unions are standing for justice for missing and murdered Indigenous women and girls.
---
What Brings Us Here: Stories of Indigenous-led activism on the streets and waterways of Winnipeg
A new Instagram project launched by the National Film Board (NFB) of Canada gives a face to community-run Winnipeg search teams the Bear Clan and Drag the Red. It is a companion piece to the film, This River, which looks at the experiences of Kyle Kemach and the film's director, Katherena Vermette, who have both gone through having a family member disappear.
---
Run Sister Run, music video
In 2015, at age 16, Métis activist Tracie Leost raised $6,000 in support of Families First Foundation. She re-enacted her 115-km Journey of Hope for a music video to a song called Run Sister Run. Read article.
The video ends at MMIW memorial in Winnipeg, as Leost describes her solitary run in a voice-over commentary: "I had goosebumps and a tingly feeling rushing through my body. I felt anew that I wasn't alone. It felt like I had the spirits and hearts of these women linked within mine and for the first time throughout this entire journey my voice was louder than it had ever been."
---
Dignity: The strength of Indigenous women
Jon Adaskin, a Winnipeg photographer, uses a wet plate collodion technique, which dates back to 1850, to capture the strength of 20 Indigenous women and girls whose loved ones were murdered or have gone missing. He hopes viewers leave with the sense that "They're looking at the faces of pain and hopefully there's a realization that we all bear some responsibility for that." Read article.
---
Ghosts of Violence by the Atlantic Ballet Theatre of Canada
An acclaimed work has been adapted to include First Nations dancers, images and stories of missing and murdered Indigenous women in Canada. Read article.
---
Scream of the Silenced by Dave Fadden
Created by Dave Fadden in 2015. This mosaic style painting represents the one-thousand-plus missing & murdered First Nations women of Canada. Visit online gallery on Facebook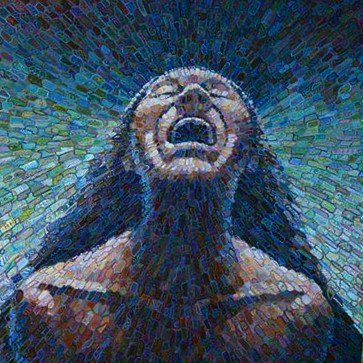 ---
You Are Not Forgotten by Angela Sterritt
How did inequality within indigenous communities — the most serious, current consequence being the thousands of missing and murdered Indigenous women — creep from out of mind to front of news coverage? It involved much determination, passion, and love. Journalist Angela Sterritt brings to life six stories from a movement finally resonating in Canada. Read A Movement Rises. This piece was a finalist for the Canadian Association of Journalists' annual awards, in the text feature category in 2015.
---
Not Forgotten by Maxine Noel
"Turning first to the West Coast peoples, I am honoured to have been allowed to include the moon image of my friend, artist and visionary Roy Henry Vickers, an image I first encountered in his illustrations for Dave Bouchard's The Elders Are Watching.
From the North, I incorporated the image of Sedna, the source of all the creatures of the sea. I have always been drawn to the shell and bead work of the Maliseet and other East Coast peoples and in this painting, have echoed the fluidity and grace of their compelling designs.
The two feathers acknowledge the Metis and the people of the grasslands and woodlands of the plains and forests.
Finally, the floating figures throughout the painting are the spirits and the presence of the missing and murdered women. Missing but never lost, Always present, always remembered."
---
Still Dancing by Jonathan Labillois. "The idea for the title came from my little sister."
Dancers dance for those who cannot, the sick, the elders, and those who are gone. It's like all those women are still dancing thru her." Visit online art gallery.
---
Missing by Nani Chacon
"I created this piece to honor the lives and memory of unexplained murders and missing Indigenous women of North America. The imagery I chose places a woman amongst a landscape and Butterflies. The interaction of the woman and the butterflies has little to do with one another in the physical sense.Instead I combine the elements in this painting in an overlapping manner to create cohesion between three violated subjects The butterflies are a symbol for indigenous women, that is why they move though and within her. The monarch butterfly has a migratory pattern that covers Spans North America. in recent documentation , The monarch butterfly is also unexplainably dying and missing. In this piece I wanted to create the connection between land and women I see that we are mistreating and killing both. I believe because there is no respect for the land there is no respect for women. I believe when one stops the other will too." Read article.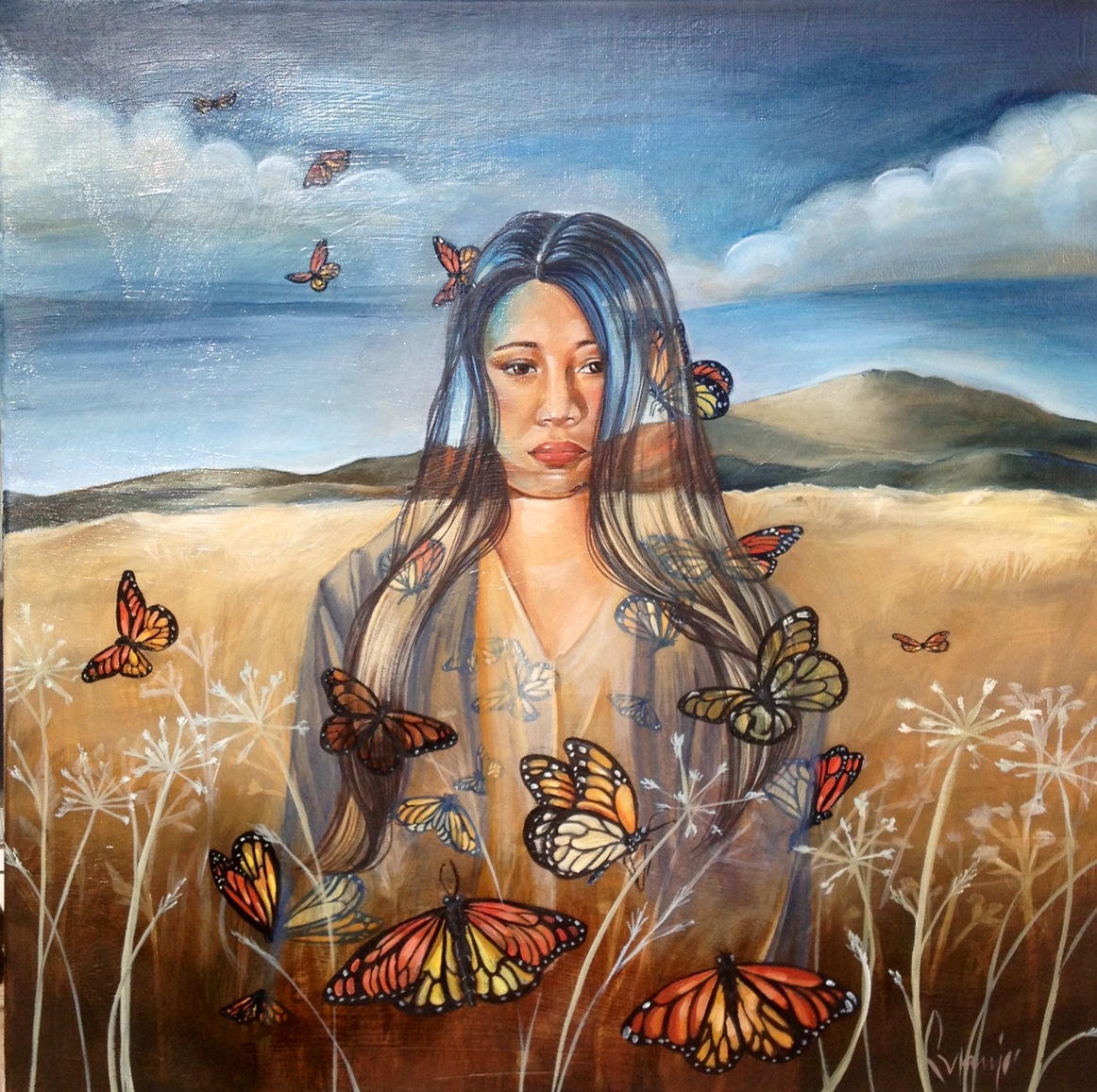 ---
Missing and Murdered, street art by Ron Wild
"Faces of missing and murdered indigenous women are popping up on vacant buildings in Regina and Toronto. The portraits are part of a global art project called Inside Out started by French street artist JR. People from all over the world send JR portraits that he prints into pasteable posters to be publicly displayed. The idea is to turn personal identity into art to convey a message or make a statement. Ron Wild, an artist originally from Regina now working and living in Toronto, wanted to bring attention to a Canada-wide issue – missing and murdered indigenous women." Read Article.

---
Red Dress by Stephanie Cooney
A photo project in Saskatoon is raising awareness about missing and murdered indigenous women. Stephanie Cooney, who runs Reflections Photography, worked with indigenous models who wore red dresses in various places around the city. "It was very interesting to me. It was something different I wanted to try, to do something new," Cooney said. "And I wanted to speak up and help." Read article. Visit Facebook album.
---
Mural by Tom Andrich honours missing, murdered women. Artist strives to show their positive moments, not troubles.
"The only way we can do something about it is if everyone is aware of the problem, said the artist. He painted the faces from pictures provided by the victims families when he could, instead of using mugshots. He wanted the women to be remembered for their good moments rather than for any legal troubles." Read article.
Public art in honour of MMIWG, located on The Portage Avenue and Empress Street, Overpass in Winnipeg. Photo by UM Today
---
Justice for MMIWG, mural art by Fanny Aisha, Guko and Monk-E
Missing Justice in Montreal commissioned the mural, which takes up the entire side of a three-storey building on that city's main drag, Boulevard St-Laurent.
"It's really a strong message," she said. "To me it represents the sadness of loss, but at the same time there's hope in the light that's there in the hands. It shows that she's not letting go of that [hope], and it's a really strong message. I didn't realize I was projecting that when I was there, so I'm really happy to be able to contribute, even though I did it indirectly." Read article.
---
Unmask the Silence, See Our Sisters
Indigenous women are going missing and being murdered at a much higher rate than other women in Canada—a rate so high it constitutes nothing less than a national human rights crisis. This campaign was created in collaboration with the Strutt Program in Peterborough, a multi-media and fashion arts program for today's youth, and young girls from the Cree Nation of Wemindji, to spread awareness on this crisis. Read article. Facebook album.
Photographs by Paisley Spence Photography, hair and makeup by STRUTT Beauty, Jasher Guiel, Carolyn Abbott, Brandy Aston, Jacqueline Hoss, Christina Abbott. Creative Direction by Christina Abbott.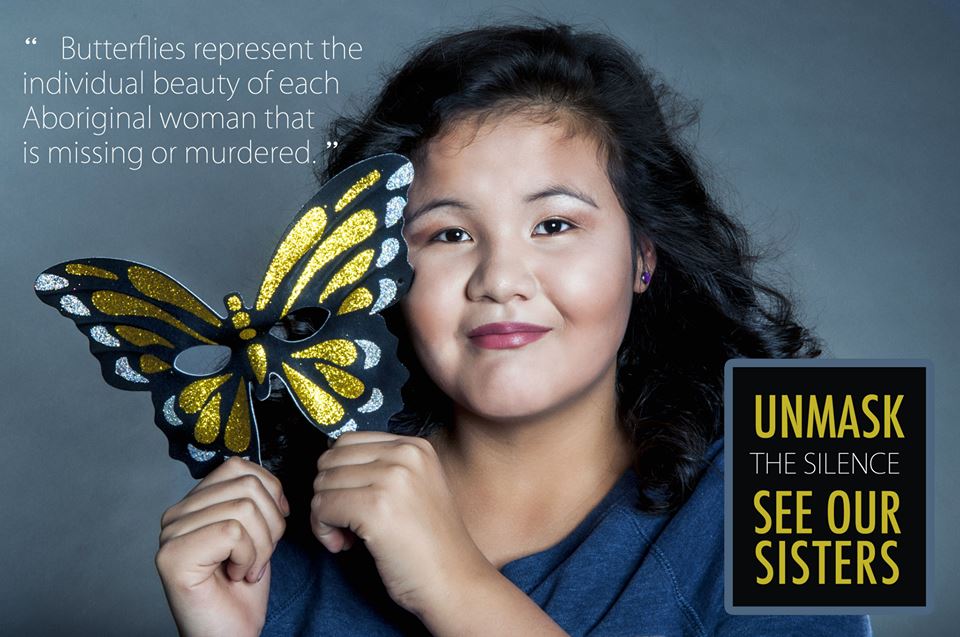 ---
The Forgotten by Pamela Masik
'The Forgotten Project is comprised of sixty-nine portraits of women that went missing and murdered in Vancouver's Downtown Eastside over the course of decades. Believing that it is society's collective responsibility to support and empower individuals of high risk, artist Pamela Masik painted each woman on a large 8' x 10' canvas employing a style powered by raw emotion and passion." Read article. Artist website. Exhibit canceled. The film.
"The only voice I know, is through my paintbrush, So I paint."
[The film, The Exhibition is ] "A fine cypher for all of us trying to come to grips with the most horrifying crime in Canada's history." The National Post