Ecumenical letter urging Canada to protect freedom of worship
---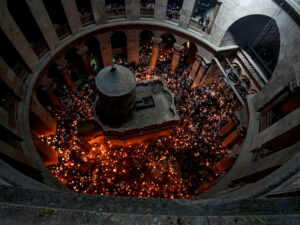 To protect access for all religions to places of worship in occupied East Jerusalem, and to condemn recent Israeli police attacks on worshippers at Al Aqsa Mosque  
KAIROS, jointly with member churches and church agencies in Canada who work with Palestinian and Israeli partners, have sent an urgent letter to the Honourable Minister Mélanie Joly, Minister of Foreign Affairs, urging the Canadian government to call on the Government of Israel to ensure full just access, and protection of rights of Palestinian Christians and Muslims to places of worship in occupied East Jerusalem. 
As Christian pilgrims were preparing to gather for the ceremony of the Holy Fire at the Church of the Holy Sepulchre in the Old City of Jerusalem, the Israeli government-imposed restrictions on attendance, citing safety of participants in and around the holy sites in this month's Holy Fire ritual. Over the last few weeks, violent clashes between Israeli police and worshipers at Al-Aqsa Mosque compound, the third holiest site in Islam, have been witnessed. Tensions have soared as tens of thousands of people are returning to Jerusalem's Old City to visit some of the holiest sites for Christians, Muslims, and Jews for the first time since the lifting of pandemic restrictions. 
The letter urges Canada to take a strong, moral stand based on the commitment to rule of law, respect for the right to Freedom of Worship and preservation of the Status Quo regarding Jerusalem.