Week 4 – COP27 Solidarity- Indigenous Partners
---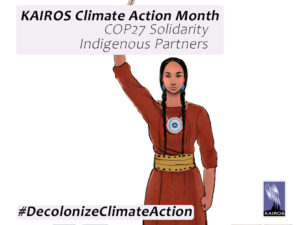 During Indigenous Solidarity Week, we turn our attention to the Indigenous peoples and youth members of the KAIROS/For the Love of Creation delegation to COP27 in Sharm E-Sheikh, Egypt in November. Each delegate greets us with a video that will be posted during this week along with further details about their hopes and expectations for COP27.
On Tuesday, September 20 we will feature:
Clifford Mushquash, Anishinaabe from Pawgwasheeng (Pays Plat First Nation) on the northshore of GichiGami (Lake Superior), and KAIROS Blanket Exercise Facilitator. 
We will introduce the following youth delegates on Thursday, September 22.
Tia Kennedy, Oneida Nation of The Thames and Walpole Island First Nation.
Yusra Shafi, International student from Kuwait at University of Toronto in Psychology and Environmental Behaviour, intern at Development and Peace.
Since September 21 is designated by the United Nations as the International Day of Peace, on Wednesday September 21 we will reflect on climate change as a peace issue.
The Fridays for Future Global Climate Strike returns! The last Global Climate Strike, in 2019, drew thousands in Canadian cities. Let's fill the streets once more! Join the action in your community. And bring messages to Decolonize Climate Action. A Map of Action is available. Or organize an action!
This week, parliamentarians return to Ottawa for the fall session. Please write to your MP in support of three private members bills that, if enacted, would address environmental racism and corporate accountability in Canada.
Delegate Quotes
During this week of Indigenous Solidarity, we highlight the voices and the messages of the Indigenous delegates on our COP27 delegation. 
"I think when we see ourselves in the environment and see the environment in ourselves, decisions take by government and industry will produce policy and action that not only prioritize environmental protection and mitigate the effects of climate change, but these decisions and these actions will also improve the health of all people on Turtle Island." – Clifford Mushquash 

"Indigenous peoples have the longest standing relationship with Mother Earth and the necessary values to affect meaningful and quick change. We view the Earth as our mother, rather than a resource for monetary gain.  Those are the people who should be leading this conversation, because the solutions have always been here." – Tia Kennedy 
Additional Resources
Indigenous Climate Action: Decolonizing Climate Policy in Canada: Report from Phase One
Indigenous Climate Action: This Week in Decolonizing Climate Policy
Indigenous Climate Action: Is Decolonization a Buzzword?
Wolastoqiyik and Mi'kmaq Grandmothers – Land/Water Defenders Sharing and Learning Circle: Generating Knowledge for Action Report   
KAIROS: Indigenous Wisdom: Living in Harmony with Mother Earth (2017)
KAIROS: Research with KAIROS Partner on Free, Prior & Informed Consent: CEIBA's Experience in Guatemala (2014)
Colonialism and Climate Change: Deborah McGregor Calls for More Indigenous Input
Dancing the World into Being: A Conversation with Idle No More's Leanne Simpson
How a conservative US network undermined Indigenous energy rights in Canada
Indigenous voices ring with wisdom on climate change during panel discussion
Recognizing the transformational potential of Indigenous-led conservation economies
Understanding Colonization on Turtle Island: Resources to Assist in understanding the past and bettering the future
Week 3 Digest
Week 3 – COP27 Solidarity- Global Partners
Introducing Kelly Campo – OFP/Colombia
Introducing Ivonne Yanez – Acción Ecológica/Ecuador
Introducing Noble Wadzah – Oil Watch Africa/Ghana
Introducing Juan Rachel – SSCC/South Sudan
Introducing Chantal Bilulu – Héritiers de la Justice/DRC
Introducing Hana Elias Anton Kare – Wi'am/West Bank
Introducing Paul Belisario – IPMSD/The Philippines