Introducing Juan Rachel Michael Roberto – SSCC/South Sudan
---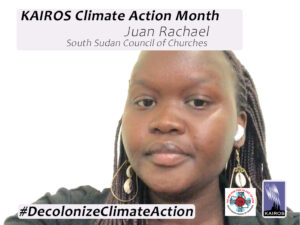 Meet Juan Rachel Michael Roberto, Advocacy Coordinator for South Sudan Council of Churches (SSCC), a long-term ecumenical and KAIROS partner in South Sudan. The SSCC is a Women of Courage partner in our Women, Peace and Security (WPS) program and an active partner in our emerging gender, conflict and climate program.
Juan works to analyze peace processes, in particular the Revitalized Agreement on the Resolution of Conflict in South Sudan (R-ARCSS) while informing policies and decision making of the church and the government. She is engaged in contextualizing and implementation of the Women, Peace and Security Agenda in South Sudan and the Great Lakes Region of Africa and continues to advocate for inclusion of women and youth in peacebuilding, governance, and climate change.
Juan describes her work and how it relates to the impacts of climate change in South Sudan:
"I do advocacy on issues to do with gender-based violence and inclusion of women and youth in peace and governance, and also advocacy on climate change which has become a big issue as thousands of South Sudanese are affected by floods with no access to food and safe drinking water. This has been challenging as these areas are inaccessible and they lie within the scope of our work of conflict resolution. This is because there is no sufficient early warning system and also because mobility has become a challenge."
She calls on the Canadian government to help respond to this situation:
"I think that our partners, such as the Canadian Federal government, can come in to support technically by providing capacity building on responding to the impacts of climate change and also how to establish a strong early warning system."
Watch Juan Rachel's introductory video.