Government of Canada reneges on promise to empower CORE
---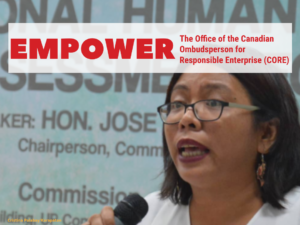 Late in November of this year, KAIROS learned that the Minister of Small Business, Export Promotion and International Trade had made the decision not to grant the Canadian Ombudsperson for Responsible Business Enterprise (CORE) investigatory powers.
The decision comes almost three years after the then Minister of International Trade announced the creation of the CORE; in the January 2018 press release, the Minister stated that the CORE would, among other actions, "be mandated to investigate allegations of human rights abuses linked to Canadian corporate activity abroad."  
For years, KAIROS and its international partners have called on Canada to hold its mining companies accountable for charges of violations that include contaminated water supplies, dispossession, intimidation, beatings, rapes, and murder from company security forces and military personnel.
In October of this year, KAIROS as a member of CNCA (Canadian Network on Corporate Accountability) helped virtually deliver a petition, signed by over 6,000 people, including many from the KAIROS network, to the Canadian Parliament.
The Government of Canada has reneged on its promise to investigate Canadian companies that have been alleged to violate human rights abroad despite years of mobilization by Canadians, civil society, and global partners in support of the corporate accountability of the Canadian extractive sector operating overseas. It appears that the Government of Canada has succumbed to corporate pressure.
In response, KAIROS sent a letter to the Minister of Small Business, Export Promotion and International Trade denouncing the decision and calling on the Canadian government to make corporate accountability integral to its foreign policy, particularly as it pursues a feminist foreign policy.
"KAIROS received the news that the CORE would not be granted the power to investigate on November 25, just as the Government of Canada is undergoing a consultation process to strengthen its Feminist Foreign Policy," the letter reads. "KAIROS upholds that without strong and unequivocal corporate accountability measures that respond to the gendered impacts of resource extraction, Canada's foreign policy will fall short of its feminist intentions." 
To take action, please visit the CNCA website.
Read the rest of KAIROS' letter to the Government of Canada.