Women at COP27
---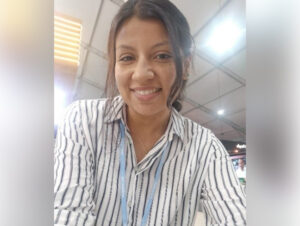 This year, in the 27th Conference of the Parties, a gender day was established for the first time on November 14. In terms of women's participation, much has changed since the first COP in 1995, from 12 percent to 37 percent, although there is still a long way to go to achieve parity. For example, according to data compiled by Carbon Brief, there are two delegations composed of 100 percent men. These are North Korea and Turkmenistan, which sent four and five men, respectively. Meanwhile, there are no delegations composed entirely of women.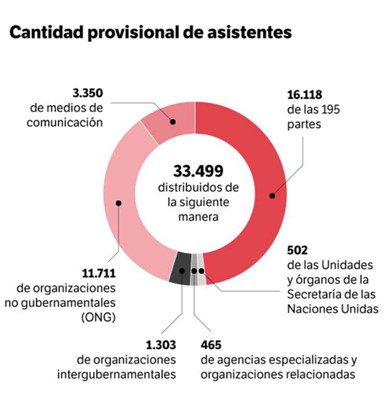 The official list of participants will only be known days after the end of the COP, then we will be able to have a more realistic look at the participation of women, but thanks to the compilation work of Carbon Brief, we already have a general overview of the situation. In terms of overall participation, the provisional list of attendees published by the UN, 33,499 people registered to attend COP27. As seen in the graph below, delegates from all countries and the European Union (in these scenarios, they are referred to as parties) are the largest group, with over 16,000 registered. They are followed by non-governmental organizations (NGOs), with almost 12,000. Journalists and representatives of specialized or intergovernmental agencies complete the picture.[1].
But beyond gender parity, we must ask ourselves how to make women's participation in decision-making spaces real and effective. Much progress has been made, but it is still not enough. COP 27 was my first COP and also the first in which Organización Feminina Popular (OFP) participates, so there are many lessons learned and many ideas that I will take with me to persist in the struggle to build a better world.
Finally, I would like to reflect on the alerts that the civil society meeting in this COP has left us. There is much that communities do every day on adaptation and climate change. In our case, women continue to do our best to resist, but nothing will be enough if extractivism is not stopped now! If the paradigm of life is not changed, we could be talking about the last struggle for life and human rights.
The outcome of this COP in terms of agreements and negotiations is likely to be disastrous because the damages and losses are incalculable, and who has the money to repair that?
However, the most important thing about this COP and what I take away from it is this: the encounter with you, the knowledge that other Indigenous women and communities are working to make another world possible, and to be able to unite our voices to denounce and say that climate justice is social justice, is peace. I just think we have to ask ourselves:
If not here, where?
If not today, when?
If not us, then who?
---
By Kelly Campo, a member of the coordinating committee of the Organización Femenina Popular, Colombia.
---
[1] Tomado de: https://www.msn.com/es-co/noticias/ciencia/en-la-cop27-aumenta-la-participaci%C3%B3n-de-mujeres-pero-a%C3%BAn-falta-para-la-paridad/ar-AA13Yz6l?cvid=a4df2a18e70e47be97c3487477c921c4#image=2